Ailey II: Young, gifted, talented and thrilling
ZITA ALLEN | 3/16/2017, 2:08 p.m.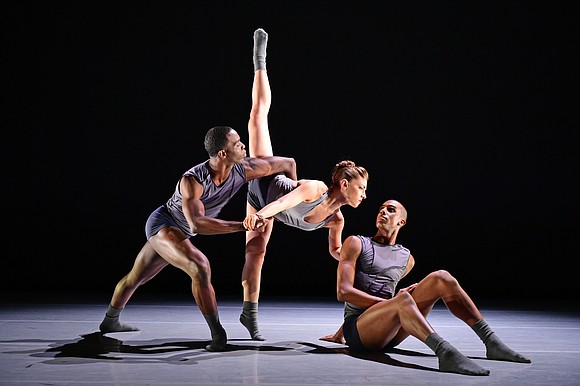 March 29 to April 2, the Alvin Ailey Repertory Ensemble, also known as Ailey II, swings into New York fresh off a 25-city tour for a two-week engagement at NYU's Skirball Center. Critics have called the 12 talented performers in Ailey II "spectacular," "the younger version of Alvin Ailey American Dance Theater," full of "youthful promise" with "dazzling technique" and "off-the-charts energy."
Back in 1974, when Alvin Ailey launched Ailey II, it had a dual mission: preparing talented young dancers for the next level of their careers while taking dance into venues where size and/or budget made hosting the main company impossible. Well, thanks to the high caliber of the talent Ailey II attracts, it has been both a training ground and a launching pad for some serious talent. Just ask current AAADT company members Jacqueline Green, Fana Tesfagiorgis, Jamar Roberts and Daniel Harder, among others. That means Ailey II audiences get to see tomorrow's stars today.
That is also true of the choreographers whose works are featured in Ailey II programs. Thanks to Troy Powell, the company's current artistic director, and Artistic Director Emerita Sylvia Waters, who Ailey hand-picked four decades ago to lead the new venture, the company has featured an impressive list of young choreographers, including Kyle Abraham, Jamar Roberts and others.
Powell said, "Ailey II's mission is based on nurturing the wonderful gifts of these dancers and choreographers. The up and coming dancers that we groom for the two years they're with Ailey II are not only very talented, they're very mature."
Powell said Ailey II has evolved into something more than a training ground. "In fact, we're definitely at a level where this company has its own identity," he explained. "Ailey II has traveled all over the world and performed in amazing venues because of these talented dancers and the fact that they've evolved so much artistically, technically and professionally."
A recent interview with two Ailey II dancers—Khalia Campbell and Jacoby Pruitt—revealed another ingredient of the company's success, unbridled enthusiasm. Both dancers exude the type of contagious energy and excitement that can inspire sparks when they take the stage. Bubbly and breathless, Campbell described her career journey from LaGuardia High School to a gig with former AAADT dancer Sarita Allen, to classes at Dance Theatre of Harlem and the Ailey School and an audition that landed first an apprenticeship, and then
membership in Ailey II.

"In April, I'll have been with the company a full year," she said. "To be able to perform in my hometown where my family, friends, teachers—everyone from my day care center to high school—can came and see me perform, well, I'm so excited."
Pruitt is equally excited about the upcoming Skirball season, even though he's nearing the end of the standard two-year stint with the company. Pruitt recalled the serendipitous journey that involved his best friend joining the company, a chance meeting with Powell and an invite to take a company class that led to an invite to join Ailey II. As luck would have it, the company was about to go on tour when another dancer fell ill and Pruitt had to step in on a moment's notice and begin his stint earlier than expected by learning