Colorful florals and fresh patterns for spring '17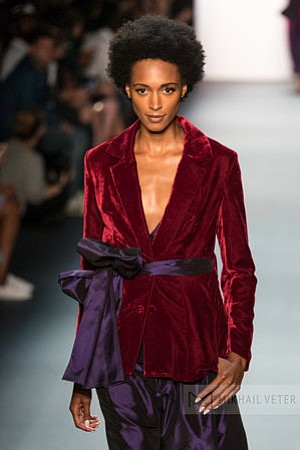 At Francesca Liberatore's spring 2017 show, the collection was filled with fantastic florals, passionate patterns, bright colors and feminine fashions. Her shapes were extraordinary, fitting the female form. There were many interesting textures, pieces and design details that were extremely eye-catching. She has an imaginative sense of style.
From beginning to end, she captured your attention with beautiful bows, cuts, patchworks, bareness of shoulders and a variety of sleeve treatments and hems. Lengths varied from long to short. From the looks of her line, the sky is the limit in your closet, if filled with this collection that features everything from wide-legged pants to slim shapes—dresses, skirts, blouses, jackets and gowns.
After graduating in fashion design at Central Saint Martins in London in 2007, Liberatore gained her experience from working with top designer houses, including Viktor & Rolf in Amsterdam, Jean Paul Gaultier in Paris and Brioni Womenswear in Italy. When she went out on her own, she was swift to expose her creations in prestigious locations around the world. She is also working on a children's wear design project in Dubai. Currently, she shares her experience and taste teaching in Italy and abroad at the best fashion schools. With her designs, she is also responsible for important collaborations that include creative directing the foreign project at Moulin Rouge by Francesca Liboratore and a great range of graphics.
For spring 2017, her necklines were news in V-cuts, off-the-shoulder shapes, strapless lines and sleeveless hits. Bareness was there in simply smart styles. The way she showed her dresses included styles with longer hem treatments that incorporated some trains, and longer pieces added to the back of hems. It was all very dramatic. Soft details were everywhere, such as bows on sleeves, big buttons on clothes and lots of soft touches. For her international clients, there's a menswear influence to some of her pieces. Solid colors stand out with metallic touches, especially in the striking turquoise blue top coat. The longer coats, sharp jackets, the fitted jeans are international. Good show.