Community leaders rally at Cuomo's office over homelessness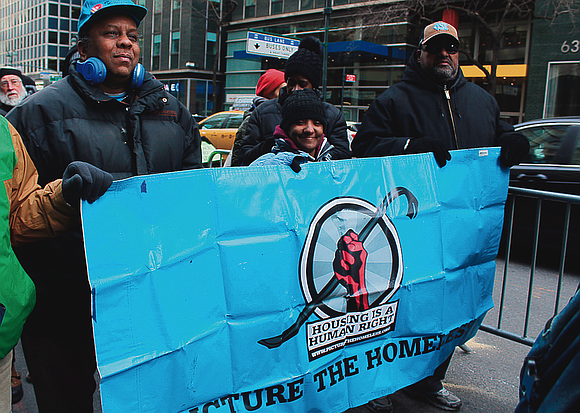 It's only a coincidence that it was freezing Monday afternoon when community activists and clergymen gathered outside of New York State Gov. Andrew Cuomo's office. They were there to call for housing for homeless New Yorkers the day before a potential nor'easter blanketed the city.
"If our governor thinks he can be president, then he needs to start by tackling our state's worst issues first: homelessness and glaring income inequality," said Corey Bates, leader of activist group VOCAL-NY, when addressing the rumors of Cuomo eyeing a presidential run. "Right now, Governor Cuomo's inaction to confront these crises shows the governor's true priorities and lack of commitment to address the needs of poor New Yorkers."
According to the many speakers in attendance, homelessness increased by 41 percent between 2011 and 2015. Leaders are calling for progressive tax policies that would generate the revenue necessary to make up for potential federal revenue lost from President Donald Trump's policies.
Protestors held up signs that read "Cuomo: The Nation Is Watching" and "End Record Homelessness & Income Inequality," while chanting "What side are you on?" outside of Cuomo's New York City offices.
"Last year the governor pledged in his State of the State that New York would no longer allow people to 'dwell in the gutter like garbage' because 'it hurts all of us,'" said the Rev. Emily McNeill, acting director of the Labor-Religion Coalition of New York State and one of the protestors arrested. "He was right, but he and the legislature have allowed even more people to lose their homes this year. It is a myth that New York cannot afford to end homelessness. We can, and from a moral perspective, we must. But it requires the super-rich to pay their fair share."
New York City Mayor Bill de Blasio recently announced a plan to develop 90 homeless shelters across the city, but studies have shown they wouldn't be enough to help homeless New Yorkers who are currently lining the floors of places such as Penn Station and any public area in the city where they can find warmth.
The current proposed shelters have generated some controversy, with many of them being relegated to areas that are majority Black, Latino and/or low-income.
"The Interfaith Assembly calls on Governor Cuomo to do his job for all New Yorkers, not just the 1 percent," said Marc Greenberg, executive director of Interfaith Assembly on Homelessness and Housing in a statement. "A year ago, he pledged to produce 20,000 units of supportive housing for our most vulnerable sisters and brothers, but most of the funding necessary to begin that work has not been released. He has let the people of this state down. We call on him to keep his latest promise to include $950 million for supportive housing in the budget to be concluded in April."