Community pressure reopens Brooklyn subway station
SHANICE LEWIS | 3/16/2017, 11:19 a.m.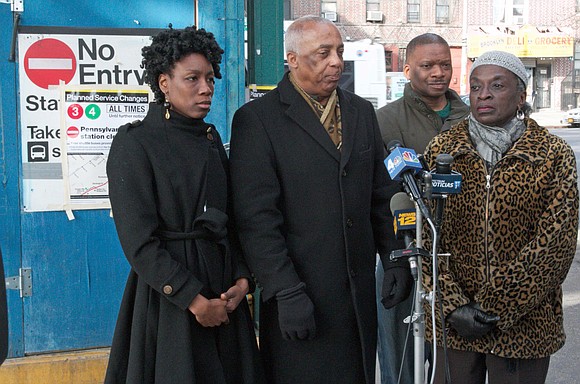 With the help of elected city officials, the Pennsylvania Avenue Station on the No. 3 line in Brooklyn is now reopen to East New York commuters.
The station had been closed for months because of a truck smashing into the elevated structure in October. The repairs were slated to be completed in four weeks but were later pushed back to Feb. 27. As the re-opening date approached, the station remained closed as crew members continued to work on the structure.
Assemblyman Charles Barron and City Council Member Inez Barron, along with community residents, held a rally March 2 at the MTA headquarters, calling on them to prioritize the re-opening of the station. The station was then opened March 3.
Inez Barron told the AmNews that she had previously sent a letter to the MTA asking to speed up the process of the station but received no response. The closed station had been a major inconvenience to the elderly and neighboring communities and resulted in riders having to walk difficult weather conditions.
"There was no additional physical work being done on the station," said Barron. "There had not been any work being done at that station for the last three weeks. So we knew it was simply a matter of bureaucratic backlog, and that's why we protested."
The closed station has been a great inconvenience to members of the Brownsville and East New York community. For months, riders were forced to walk to alternate stations or use the temporary shuttle bus service. The station had only recently been open after being closed for six months for renovations.
"We're glad that the community's voices are finally respected and although it took a while, we did get the station reopened," said Barron.
The renovated station features new platform lighting, benches, windscreens, guard rails and columns, along with new mezzanine floors.
Barron said that the MTA did call on the day the station was re-opened to inform them that the station was now open. She called the act "disrespectful and a reflection of the double standard and the inherit racism that exists in all of the systems of government and social services provided to our community."
In a statement released on the MTA website, Acting New York City Transit President Darryl Irick said, "The completion of this emergency work at the Pennsylvania Avenue station should be welcome news to customers, who had to use shuttle buses while crews worked diligently to make the station safe for use again."