Disney Dreamers Academy marks 10 years of changing lives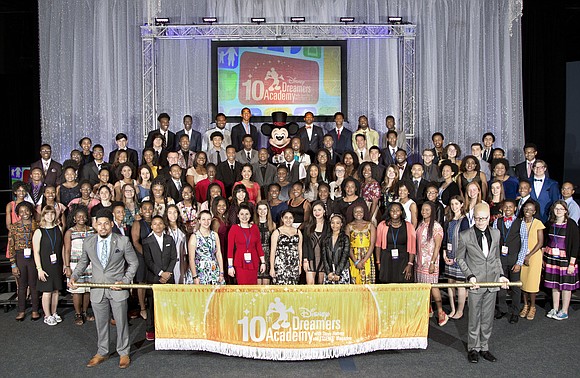 Walt Disney World Resort welcomed 100 teens selected to participate in the 10th Disney Dreamers Academy with Steve Harvey and Essence magazine last week for four days of inspiration and empowerment from Thursday through Sunday.
This year marks a milestone for the Academy that is now going into a decade of helping youth from around the nation. More than 1,000 students have been through the program.
At a news conference Thursday Harvey discussed the importance of changing the mindset of youth by concentrating on their dreams.
"It's been 10 years of progress and 10 years of results," he said. "This is doing a lot of great things for a lot of young people's lives. You've got to expose young people to dreams. If you sat down with a child every 30 days and discussed their dreams, you'd be amazed of what you can get from a child."
Disney Dreamers Academy Executive Champion Tracey Powell, who also works as vice president of Deluxe Resorts at Walt Disney World, said that after a decade, the Disney Dreamers Academy continues to change the lives of youth.
"We started 10 years ago with Steve Harvey, we had an idea, we pulled that idea together, came up with our very first program, which was phenomenal," she said. "We didn't know how it was going to go and how far it was going go. Fast forward. We are here 10 years and each event is better than the last."
Speakers for this year's Dreamers Academy included Essence magazine Editor-at-Large Mikki Taylor, NFL player Cam Newton, motivational speakers Princeton Parker and Jonathan Sprinkles, actress Kim Fields, actor Bryshere Gray, Brandi and Karli Harvey, education advocate Dr. Steve Perry, chef Jeff Henderson and Sonia Jackson Myles, founder and CEO of Sister Accord LLC.
One alumni Dreamer from every previous class attended this year's event to offer their help and advice to attendees.
The teens arrived at the Walt Disney World Resort Thursday, where they participated in a parade at Disney's Magic Kingdom theme park followed by a welcome ceremony where Harvey spoke to them.
Friday, the Dreamers heard from alumni who also went through the program and listened to stories about success and how the Academy helped them reach their goals. Later in the day, the students went to "Deep Dives," where they attended a workshop to gain firsthand experience in their chosen career field with cast members from Disney World. Later in the evening Dreamers were able to network with professionals at a special dinner.
The next day the students heard more speakers before heading to the parks for some free time. They also got a chance to tour the American Heritage College at the Epcot theme park, which features the Kinsey Collection containing African-American artifacts and art. In the evening, the Dreamers held their "Open Mouse," where they got the chance to showcase what they learned during their "Deep Dives."
Closing on Sunday, the Dreamers participated in an emotional commencement ceremony, where they were given special rings by their parents and guardians for their work during the event at breakfast before going home. Patti LaBelle gave a surprise performance during the ceremony and ABC News reporter T.J. Holmes served as the keynote speaker.