Disney Dreamers Academy marks 10 years of changing lives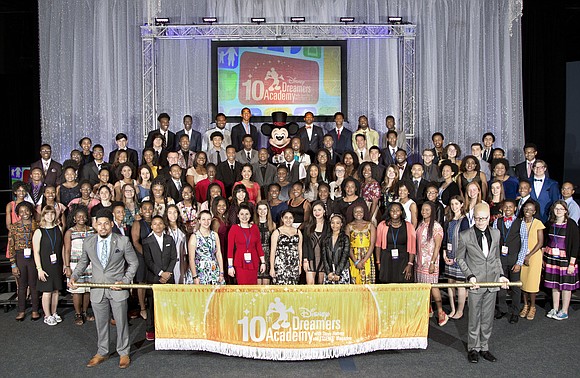 This year's winners from the New York-metro area were Paul Jones from Brooklyn, Demiana Rizkalla from Staten Island, Keon Hanley from the Bronx and Rouwaida Nitiema from Newark, N.J.
Hanley, who attends Harlem's Frederick Douglass Academy, received the program's Curiosity Award. The aspiring video game designer took on leadership roles during his project of designing an improved wristband already in use by Disney through the use of coding.
"I applied last year and wasn't lucky enough to get the opportunity to come, but now I'm here and I'm so excited," he said. "The people here are amazing and I'm learning a lot. I never thought I'd have the chance to be here."
Nitiema was born in Burkina Faso and raised in Nigeria. Currently living in Newark, she's an aspiring doctor and participated in a workshop where she learned about the path she must take to make her dream come true of improving health in Africa.
"I want to make a difference in Third World countries," she said. "I want to someday own hospitals around countries that need them so I can impact the world in a sublime way. I know that I am a dreamer but I want to dream even bigger and take my ideas into new directions."
Also a winner at the Academy, Nitiema was awarded a paid internship at the Essence Music Festival taking place this summer.
This year's group traveled from 26 states for the all-expenses-paid trip to Disney World.
President of Essence Communications Michelle Ebanks said the Dreamers Academy is about making a difference in the lives of the teens so they have the skills to pursue their own success.
"What has been remarkable is Disney's commitment," she said. "This world-class corporation is taking the time and putting in their treasure against the lives of these now 1,000 youth."