Muslim designer's dazzling ensembles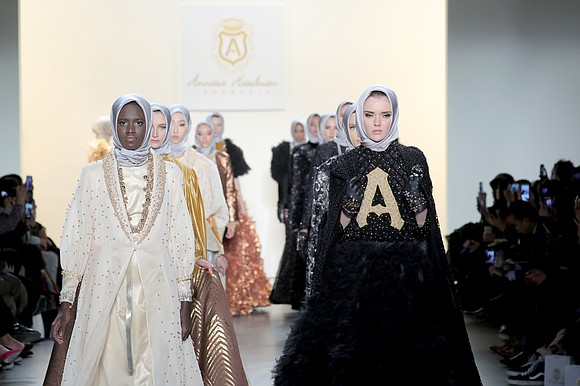 With beautiful models wearing her dramatic, wearable statement pieces, Anniesa Hasibuan presented a dazzling collection at New York Fashion Week. From the moment her models hit the runway, the audience was in awe. A gorgeous white sequined gown paired with a glamorous ruffled jacket opened the show. Hasibaun seemed to have traded in her pearls from last season for sequins, ruffles, feathers and lots of gold this season.
A Muslim designer from Indonesia, she created a collection that went viral last season. Her Hijab-wearing models returned for her second season at Fashion Week, and she put on quite a show. There were satin pants layered harmoniously with fancy feathered skirts, rich velvet blouses and intricately detailed jackets that created effortlessly chic ensembles, with pieces that can be worn together or separately for individual looks.
For sporty couture, the "letterman" blouses with the letter "A" for Anniesa offered a touch of whimsy and playfulness to the collection. Other details like "A" embossed leather belts and jeweled leather gloves demonstrated the designer's impeccable attention to detail.
The collection's theme was "Drama." Inspired by women and the fact that all women are passionate, emotional, multidimensional and strong. Her sparkly, yet elegant designs are made of separates that can be worn and styled to suit a more Western fashion palette.