Remy Ma and Nicki Minaj: A loss for Black women, personal relationships and sisterhood
Jordannah Elizabeth | 3/16/2017, 1:57 p.m.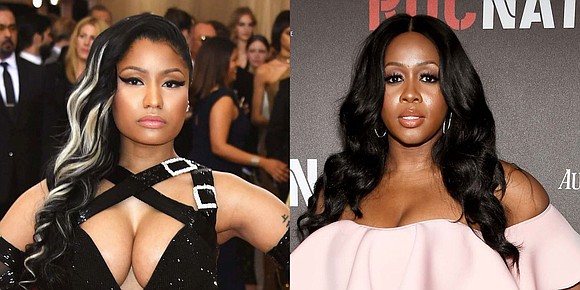 "We can be friends, and I will be cataloging information just by some chance we get into it someday. If nothing ever happens, I don't open the file cabinet, but if we do…"—Remy Ma on "The Wendy Williams Show."
Last month, Remy Ma's "SHEther," a "diss track," shook the hip-hop music community and American culture, as rapper Remy Ma, who was recently freed from prison on two charges of assault, wrote and recorded a scathing track about rapper Nicki Minaj.
My first reaction to the news of the women's feud was that they were embodying, if not mimicking, the "rap beef" in which two rappers air out their personal and professional grievances with one another through insults on intentionally directed rap tracks. As a woman who's been listening to hip-hop for most of my life, I felt the tactic was unoriginal. Furthermore, the notions of "war" and "beef" are masculine constructs that have ended in murder, such as in the feud between Tupac and Biggie in 1996. Women in the rap game have also used this formula to express their distaste for one another, for example, Lil' Kim and Foxy Brown, but in this specific instance, Ma was mimicking the rap beef between Nas and Jay Z by naming her track after Nas' song "Ether," in which Nas attacked Jay Z. Jay Z is known to be a close friend and mentor of Nicki Minaj.
There seems to have been a long, complex and at times subliminal timeline of events that happened between the two rappers. There have also been a number of reports that Minaj wrote a rhyme that was considered to be an insult directed toward Ma in her 2007 song "Dirty Money." Ma expressed in an interview from prison in 2009 that she believed she was insulted in "Dirty Money" and would get Minaj back.
A number of women and queer Black community members reacted to the beef, praising Ma for her track. In her personal account of the beef on "The Wendy Williams Show," Ma explained that she felt she was dismantling a bully. She mentioned during the interview that Minaj had public beefs with other women in the industry, such as Mariah Carey and Miley Cyrus. This development, of course, seems like a reasonable catalyst to encourage Ma to stand up for herself, along with hearing from others that Minaj was trying to sabotage her career and keep her from taking care of her family.
Most interesting in this conflict were Ma's comments about friendship. Williams asked Ma how she got all the personal information on Minaj featured in "SHEther," such as the allegation that Minaj suffered complications from her implants in her backside.
Ma said, "We can be friends, and I will be cataloging information just by some chance we get into it someday. If nothing ever happens, I don't open the file cabinet, but if we do…"  
Williams responded, "This is our people," speaking of Black people, particularly Black women. Fat Joe was also asked to comment on the relationship between Ma and Minaj (Because, of course, Ma can't have a moment to stand on her own and talk about her relationships without a man sitting next her, adding his perspective. Why was Fat Joe even there?)