'Don't stop fighting': Wrongfully convicted man free after 32 years
Sara Sidner, CNN | 3/17/2017, 11:10 a.m.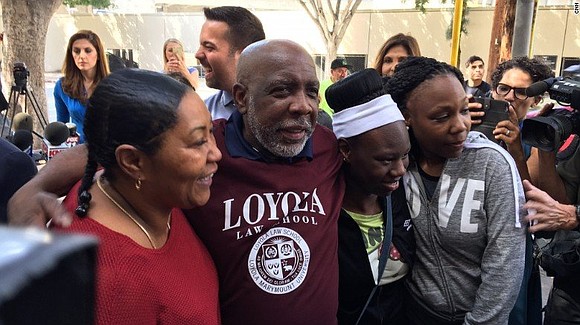 "I couldn't breathe. I started crying." Wilson's daughter Catrina Burke said. "I don't have words. I don't have words at all. But I still have a parent."
Wilson's granddaughter snuggled under his arm tears dripping from her eyes while he talked. But his sister Gwen Wilson beamed saying she isn't going to focus on the wrong that was done to her brother who she idolized as a child.
"We just needed to love on him and keep him encouraged through it all. All we can do is keep our head up you know that's just it. We've always been a hopeful that one day...by the grace of God today is that day."
Wilson's mother who is 96 years old had long fought for her son's release from her home in Missouri. She believed her son. And he knew he had better call her the moment he was out.
"I talked to her," He said smiling, "My mother was the backbone. She's a 96-year-old pit bull."
Wilson's sister Gwen chimed in with proof. She repeated the words of their no nonsense mother the moment Wilson called her as a free man, "I didn't ask if you was alright. I said are you out?"
Indeed he was.