Talking SCHOP! The Chili Challenge!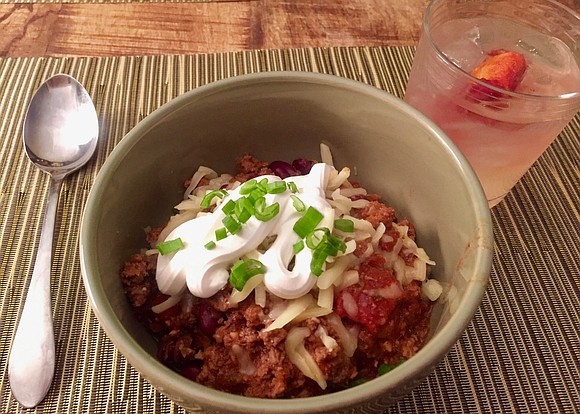 I write this the day before the major nor'easter snowstorm is about to blow through, and I have already planned my storm menu. With the help of some last-minute shopping, which involved scrounging the supermarket after doomsday shoppers have attacked it and waiting in a ridiculously long line, I have all I need to make a Crock-Pot chili.
Last year during that major snowstorm, my friend Angie and I trolled our Harlem friends' homes with a sippy cup of wine in tow. One of our hosts has challenged me to a chili cook-off. Challenge accepted!
I am planning on using a combination of ground pork and beef in my mix and of course my secret ingredient… (insert dramatic sound effect here). Maybe a couple of other tweaks to report later, but in the interim the following is a recipe similar to mine for your use.
Ingredients
3 tablespoons vegetable oil
2 medium yellow onions, medium dice
1 medium red bell pepper, medium dice
6 medium garlic cloves, finely chopped
1/4 cup chili powder
1 tablespoon ground cumin
2 pounds lean ground beef
1 1/2 teaspoons kosher salt, plus more as needed
1 (28-ounce) can diced tomatoes
1 (14-ounce) can tomato sauce
2 (15-ounce) cans kidney beans, drained and rinsed
1/4 cup coarsely chopped pickled jalapeños or green chiles, drained
Shredded cheddar cheese
Thinly sliced scallions
Sour cream
Fresh cilantro leaves
Heat the oil in a large skillet over medium heat until shimmering. Add the onions and bell pepper, season with salt and cook, stirring occasionally until softened, approximately 8 minutes.
Add the garlic, chili powder and cumin, stir to coat the vegetables, and cook until fragrant, about 1 minute. Add the ground beef and measured salt and cook, breaking the meat into small pieces with a wooden spoon, until the beef is no longer pink, approximately 7 minutes.
Transfer the mixture to the slow cooker, add the diced tomatoes and their juices, tomato sauce and beans, and stir to combine. Cover and cook until the chili thickens and the flavors meld, approximately 8 hours on low or 6 hours on high.
Stir in the jalapeños or green chiles. Taste and season with salt as needed. Serve over steamed white rice and top with cheese, scallions, sour cream and cilantro.
Happy eating and thanks for reading!
Kysha Harris is a food writer and editor, culinary producer, consultant and owner of SCHOP!, a personalized food service in NYC for more than 15 years. Follow her on Twitter and Instagram, @SCHOPgirl, on Facebook, SCHOPnyc, and her blog, www.talkingSCHOP.wordpress.com. Questions? Comments? Requests? Feedback? Invitations! Email AmNewsFOOD at AmNewsFOOD@SCHOPnyc.com. Follow us on Instagram, Twitter and Facebook @NYAmNewsFOOD and tag us with #SoAmNewsFOOD with your food finds!