Whitewashed Brooklyn?: Residents of color priced out of Bedford Armory Development
Stephon Johnson and Nayaba Arinde | 3/23/2017, 10:28 a.m.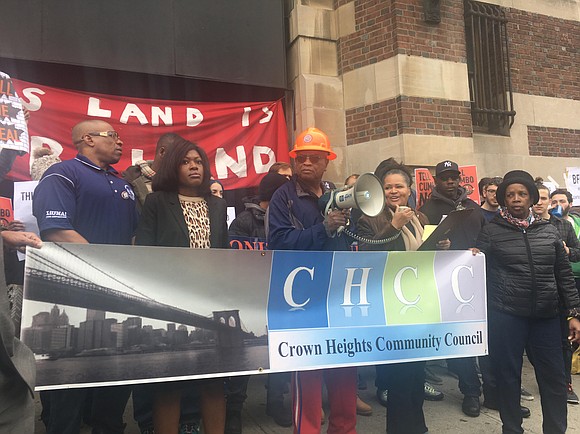 "In Brooklyn, white families are much more likely to earn enough to afford one of the $2,200+ apartments than African-American or Latino families," read the report. "About 58 percent of families who earn more than $75,000 are white, while only 26 percent are African-American and just 12 percent are Latino. That means white Brooklyn families are more than twice as likely as African-Americans to be able to afford the vast majority of Bedford Armory apartments, and more than 4.5 times more likely than Latino families."
From the American Community Survey's 2015 5-Year Estimates of income and household demographics in Brooklyn, 307,085 residents in the borough make $75,000 or more a year.
The median income in Brooklyn's Community Board 9, where Bedford Armory is being constructed, is $42,773. Affordable rent, by NYCC's standards, is $1,069. Recent reports from the Independent Budget Office state that more families enter shelters from Crown Heights than almost any other neighborhood in the five boroughs (more than 2,000 between 2002 and 2012). According to the report, in 2016, more than 57 percent of families that entered the shelter system were Black.
That fact has led activists to take to the streets, voicing their displeasure.
Activists around the city, not just Brooklyn, have been railing against the raise in rents and gentrification overall. Last week, clergy people, tenants and housing organizations rallied outside of a private meeting of real estate developers during the Real Estate Board of New York members' luncheon at the Hilton of New York in Midtown Manhattan. Citing neighborhoods such as Crown Heights, Harlem, East New York, the South Bronx, Washington Heights and Bedford-Stuyvesant, fake pallbearers carried caskets with the words "RIP Affordable Housing" and "Save New York" written on them.
"Who are we building this city for?" questioned the Rev. Emily Scott, of St. Lydia's Dinner Church in Gowanus, at the rally. "The newer buildings going up will not house our teachers, our cab drivers or any other hard-working, middle or low income residents. God calls us to do better: to build a city for all New Yorkers."