Chuck Berry, rock & roll innovator, dies at 90
Ron Scott | 3/23/2017, 10:34 a.m.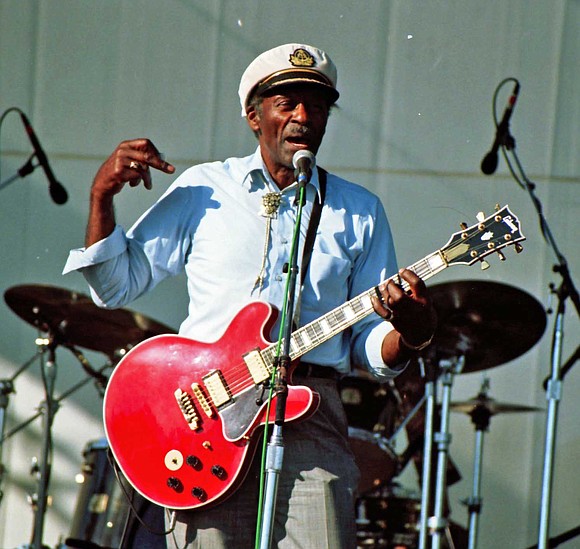 Chuck Berry, the dynamic guitarist and songwriter, whose unique singing style crossed all genres and put the R in rock and roll with such hits as "Sweet Little Sixteen," "Maybellene" and "Johnny B. Goode," died March 18 at his home in St. Charles County, Missouri. He was 90.
The St. Charles County Police Department confirmed his death after arriving at his house after a 911 emergency call. Lifesaving measures were unsuccessful.
On his 90th birthday, Berry announced his plan to release his first studio album in almost 40 years, entitled "Chuck," to be released in June. This capsule of his life's work, consisting of mainly new compositions, would feature his children, son Charles Berry Jr. on guitar and daughter Ingrid on harmonica, and would be dedicated to his wife of 68 years, Themetta Berry.
Berry, the consummate entertainer, performed once a month at Blueberry Hill, a restaurant in St. Louis, where he appeared regularly from 1996 to 2014, with intermittent dates until Oct. 24.
During those rock and roll days when Berry hit the stage, his songs, such as "Roll Over Beethoven," sent young people into their own dancing orbit. Now, Berry's song "Johnny B. Goode" is in orbit on golden records within the Voyager I and Voyager II space probes that were launched in 1977.
Berry's many honors include the Grammy Lifetime Achievement Award (1984) and the Kennedy Center Honors (2000). He was ranked seventh on Time magazine's 2009 list of the 10 best electric guitar players of all time.
Berry is included in several of Rolling Stone magazine's "Greatest of All Time" lists. In September 2003, the magazine ranked him No. 6 in its list of the "100 Greatest Guitarists of All Time." His compilation album "The Great Twenty-Eight" was ranked 21st in Rolling Stone's 500 Greatest Albums of All Time.
John Lennon of the Beatles said, "If you tried to give rock and roll another name, you might call it 'Chuck Berry.' He was one of the main architects of rock and roll."
His style was more than boogey woogey, tinges of the blues, country twang, R&B, the lindy swing and the Brooklyn two-step. On "Thirty Days" he brings in call and response, and hard-hitting drum beats.

When he picked up his guitar and began to sing, his music was immediately infused into the veins of teenage America. His song "Almost Grown" had to be a teenage theme song.
His songs tell stories of fast cars, those crazy high school days, young love, "No Particular Place to Go," but he can't open her seat belt.

When it came to song writing, he was a genius. Fans knew his songs from the first note, whether on his guitar or vocally. He was that good. His music is addictive. The lyrics are crazy humorous, but they grab hold of you until you sing along and dance. Just listen to "You Can Never Tell" (1964). The piano chords are crazy fluctuating in every direction but it catches your attention and you need more.