Chuck Berry, rock & roll innovator, dies at 90
Ron Scott | 3/23/2017, 10:34 a.m.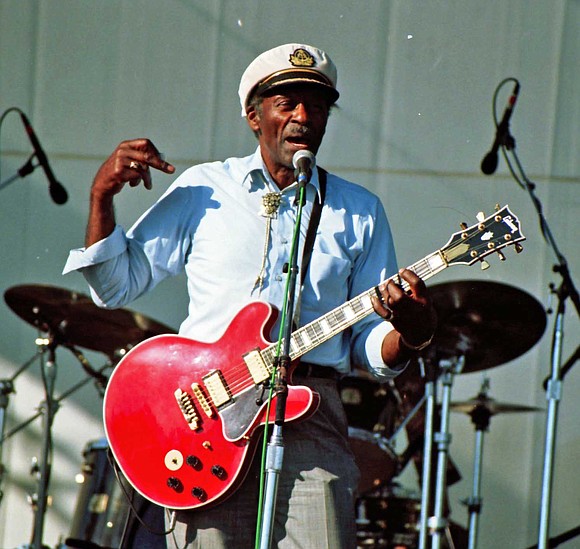 Charles Edward Anderson "Chuck" Berry was born Oct. 18, 1926, in St. Louis, Mo. He grew up in a middle-class section of the city. His father, Henry William Berry, was a contractor and deacon of a nearby Baptist church and his mother, Martha Bell (Banks), was a public school principal.
His interest in music began at an early age, and his first performance took place in 1941, while he was attending Sumner High School.
While still in high school, Berry was arrested for stealing a car and robbing stores, which landed him in the reformatory, where he earned his GED. Throughout his life, Berry would be sparring with the hands of justice.
In 1948, Berry married Themetta Suggs, who gave birth to Darlin Ingrid Berry in 1950 (during the years the couple had three other children).
To support his family he took various jobs as a factory worker, a janitor in his apartment building and later as a beautician. To supplement his income, Berry played with local St. Louis bands at night.
In 1953, he joined pianist Johnnie Johnson in Sir John's Trio, which later became known as the Chuck Berry Combo. He learned a lot from the colorful Texas guitarist T-Bone Walker. His playing style of guitar riffs and showmanship antics came from his mentor.  
The band played mostly blues and ballads, but the most popular music among whites in the area was country, and Berry had a mix of country and R&B tunes that brought in white folks looking to dance to this new swing rock and roll. This period was in the midst of segregation, so Blacks and whites were not enjoying Berry live at the same time.
In 1955, while Berry was in Chicago, one of his idols, the bluesman Muddy Waters, suggested he speak with Leonard Chess, one of the owners of Chess Records about recording. Chess was interested in his song "Ida Red," a country song. Chess pumped up the rhythm and beats, and changed the title to "Maybellene." The song hit the charts with a vengeance, No. 5 on the Billboard pop chart and No. 1 on R&B chart.
This success was in part because of the disc jockey Allan Freed, who put the song in regular rotation on his radio show. His name was added to the credits as a songwriter for a share of the publishing royalties.
From 1955 to 1958, Berry knocked out classic after classic. Now, as an established performer, Berry opened a racially integrated St. Louis nightclub, Berry's Club Bandstand.
Berry's great songs and animated moves, especially his famous "duck walk," which was better than Elvis' gyrations any day, offered him the opportunity to appear in a variety of music shows, such as Alan Freed's "Biggest Show of Stars for 1957," touring the United States with top white performers such as the Everly Brothers and Buddy Holly.
He appeared in two early rock-and-roll movies: "Rock, Rock, Rock" (1956) in which he sang "You Can't Catch Me," and "Go, Johnny, Go!" (1959) in which, aside from a speaking role as himself, he performed "Johnny B. Goode," and "Little Queenie."