Colette Pean: Serving and saving the community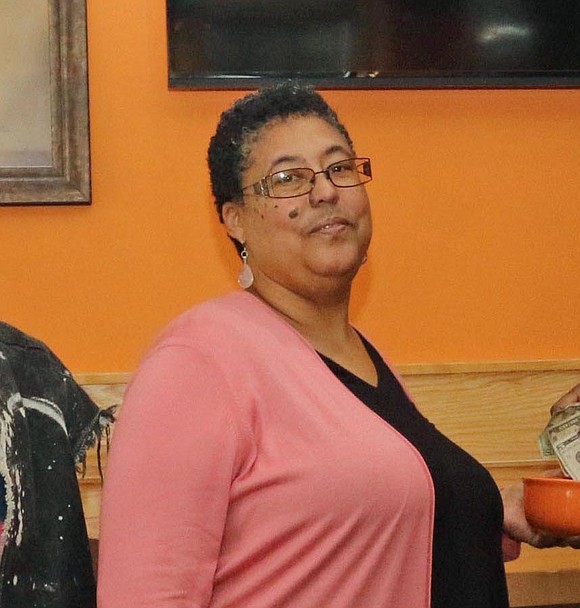 "Since I was in high school, I have always been involved in making my community better," said community activist Colette Pean. From working with health service centers and special need kids to being a part of the current Civil Rights Movement, Colette Pean is one of the founders of the December 12th Movement, Harriet Tubman-Fanny Lou Hamer Women's Collective and Sistas' Place. She has also done work in the communities of Brownsville and South Queens at the BF Southern Queens Association. 
Pean was born in Haiti but came to New York City at the age of two. She has lived in Manhattan, Queens and now Brooklyn. When she attended college, she worked for a Haitian radio station and the Barnard Organization of Black Women. She has a bachelor's in biology from Barnard College and a master's in public administration from Metropolitan College. She speaks French, Haitian Creole, Spanish and English.
She has traveled to many countries on human rights missions, including Cuba, Zimbabwe and Ghana. Currently she is the executive director of East New York Restoration LDC. According to Pean, the East New York Restoration LDC was founded to uplift the community through job development, small business, cultural events and health activities. "I enjoy working with the people and making a difference," she said.
Always organizing, Pean can be seen in the background at events or taking the mic to inform an audience about the cause at hand. She has been a part of many events, from organizing essential supplies for the people in New Orleans after Katrina, to helping to host breast cancer awareness efforts, to fighting police brutality, to helping supply clean water for Haiti after the 2010 earthquake.
Much of her work is done with the Brooklyn-based, local, nationally and internationally focused non-governmental organization, the December 12th Movement. Pean says the December 12th Movement's mission is, and always has been, to bring awareness to Black people and solutions to the institutionalized wrongdoing by governments visited upon targeted Black communities. This organization focuses on the Black community with issues such as education, racism, reparations and health care services. "It is important to join organizations like the D12th movement," said Pean. "Organizations like these are beneficial to the Black community because they are focused on making our neighborhoods more efficient and self-reliant. Especially with President Donald Trump being in office, instead of watching him destroying our communities, we should unity and join organizations." As the founder member of The Harriet Tubman-Fannie Lou Hamer Women's Collective, Pean told the AmNews, their main focus is to promote Black culture and historical events.
After the earthquake in Haiti in 2010, Pean and members of the December 12th Movement provided supplies to the earthquake victims. "I felt like it was important to help the families in Haiti," said Pean. "Not only is it my home country, but people are suffering and we should continue to provide supplies to them if we can."
According to the online Encyclopaedia Britannica, more than 300,000 people were affected by the earthquake. Those who survived the earthquake were displaced from their homes and lost everything. Pean said the international grassroots community pulled together to send aid and supplies. Although East New York Restoration is her day—and sometimes evening—job, Pean's every spare minute is spent at Sistas' Place, the community cafe located in Bedford-Stuyvesant (456 Nostrand Ave. and Jefferson Street). This jazz cafe has been open for 21 years. Their mission is to keep jazz in the community. This very Thursday, March 23, Pean said that at Sistas' Place at 6.30 p.m., the December 12th Movement is having a reception for Zimbabwe's delegates to the U.N. Commission on the Status of Women.
A showing of the film "The Birth of a Nation," depicting the life of revolutionary Nat Turner, will be followed by an open discussion on the lessons learned from Nat Turner and the Black peoples' ongoing struggle for freedom in the 21st century. For more information, call the December 12th Movement at 718-398-1766.
At Sistas' Place Saturday, March 24, Lil Phillips and her band will be performing. There will be two sets, at 9 p.m. and 10:30 p.m.
Thursday, March 30, 2017, Pean and the rest of the December 12th Movement, along with The Choice Campaign, will sponsor a free showing of "The Birth of a Nation at 7 p.m. at the All Souls Episcopal Church, 88 St. Nicholas Ave. at 114th Street in Harlem
Pean said, "I just enjoy serving my community, bring supplies, information and encouragement during times when it is easy to be discouraged. We know that the power is within us. All our work is to help us realize all of our potential."