Gwendolyn Brooks, a poet of exquisite words and insight
Herb Boyd | 3/23/2017, 10:49 a.m.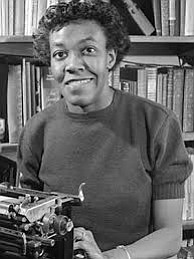 Some African-American personalities are so legendary that hardly a season passes that their achievements, their contributions, are not invoked. The recent death of Mari Evans and the scheduled appearance of Dr. Haki Madhubuti in our region are reminders of the prestige and legacy of poet/author Gwendolyn Elizabeth Brooks. Evans profiled Brooks in her rewarding compendium "Black Women Writers—1950-1980," and Madhubuti will be singing her praises this coming weekend at the Black Writers Conference at Medgar Evers College in Brooklyn.
"Our Miss Brooks" in Brooklyn is the title of the event, with Madhubuti keynoting, but she and Madhubuti have deeper ties to Chicago, although both have had an impact on the world far beyond this Midwestern center.
The reverence Madhubuti will extend to a writer he views as a mentor and one that he published at his Third World Press is sure to be resonating with passion and insight because few knew her as well and shared her literary depth and intimacy with such conviction to African-American culture.
Although Brooks is best known for her long residence in Chicago, she was born in Topeka, Kan., June 7, 1917. She was a child when her family moved to Chicago, where her father was a janitor with aspirations for a medical career and her mother was a teacher and a classically trained pianist. Brooks was only 13 when her first poem, "Eventide," was published in American Childhood Magazine.
Four years later, mainly in the pages of the Chicago Defender, her poems were often featured, and she gradually began to cultivate an audience of readers who would be the bulwark of her future work. The poems published in the Defender and a degree from Wilson Junior College would provide both the confidence and the experience she needed to begin assembling her poems in her first book, "A Street in Bronzeville" (1945). In 1949, in her second collection "Annie Allen," she chronicled a Black girl's coming of age as well as the challenges faced and overcome by the urban poor. The book earned her a Pulitzer Prize, the first for an African-American writer.
Brooks shifted gears in the early '50s and published her novel "Maud Martha" (1953), in which she, more than anything, asserted and affirmed her quest for humanity at any cost. The same exquisite writing, the precision and coherence so redolent in her poetry are distilled in the chapters of the novel.

But it was back to basics by 1956 with the publication of "Bronzeville for Boys and Girls," poems dedicated to Black children. The sonnet form she advanced in "Annie Allen" was given wider range in "The Bean Eaters" (1960). Notable, too, was Brooks' experiment with looser applications of free verse that would be more pronounced later in her collection "In the Mecca" (1968).
A far more significant development had occurred by the time of "In the Mecca," which was her growing involvement with racial identity and the Black political revolution that touched practically every aspect of African-American culture in the '60s. "Until 1967, my own Blackness did not confront me with a shrill spelling of itself," she confessed in an essay published in Evans' volume. "I knew that I was what most people were calling 'Negro'; I called myself that, although always the word fell awkwardly on a poet's ear, I never like the sound of it."