Gwendolyn Brooks, a poet of exquisite words and insight
Herb Boyd | 3/23/2017, 10:49 a.m.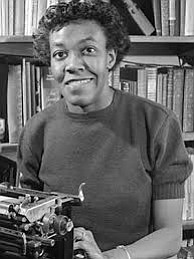 It was in the spring of that year, while attending a writers' conference at Fisk University, that she began to feel the real energy of the Blackness impulse, particularly by meeting such writers as Hoyt Fuller, Ron Milner, Lerone Bennett, John Oliver Killens, David Llorens and Dr. John Henrik Clarke. This identity and the push for a Black aesthetic became more tangible when her next book of poems was not with Harper but with Dudley Randall's Broadside Press in Detroit.

A succession of books that included "Riot" (1969), "Family Pictures" (1970), "Aloneness" (1971); "Aurora" (1972) and "Beckonings" (1975) marked not only her break with mainstream white publishers but also a growing political consciousness that helped small Black independent publishers. Her commitment to Broadside would provide a stimulus to a subsequent number of Black presses, including Third World Press, where she published "To Disembark" (1981) before launching her own Brooks Press.
At Broadside Press, in 1972, Brooks published "Report from Part One: An Autobiography." "Report from Part Two" (autobiography) would appear in 1996 and was published by Third World Press. There was also another children's book at Third World Press, "The Tiger Who Wore White Gloves: Or You Are What You Are" (1974 and reissued in 1987).
There is no easy, facile summary of Brooks' work, but literary critic Addison Gayle Jr. wrote that Brooks labeled her work before 1967 as "conditioned, based on an assumption that her selfhood as a Black woman was defined, or at least conditioned, by the white world." Gayle notes that Madhubuti stated that her poetry was "fatless." And by the late '60s she had begun to alter her approach, wanting to write "poems that will be noncompromising." "I want poems that will be meaningful to those people [Black people] I described a while ago, things that will touch them," she said.
There is no question about Brooks' identity with Blackness, but it took a more radical turn by the '60s, keeping with upheaval that permeated the era. Her kinship and ferocity were never in doubt as she "disembarked" from one tone and attitude to take on one consistent with the revolutionary zeitgeist put forth by writers and activists such as Madhubuti, Amiri Baraka, Larry Neal and Sonia Sanchez.
Even so, her poetic and literary influence were extensive, touching writers in a variety of crafts and venues, both here and abroad. When, at 68, she was appointed the first African-American consultant at the Library of Congress, it was a plateau reflecting a portion of her wide acclaim. Another example of her global appeal occurred in 1987 on her 70th birthday at the University of Chicago, when a diverse ensemble of writers gathered to salute her service and achievements.
This salute will happen again Saturday at Medgar Evers with Madhubuti's keynote address and a series of workshops with panelists evaluating and commenting on Brooks' impressive resume. It would take a page just to list her numerous awards and citations.
A daylong tribute to Brooks is just another step toward a full appreciation and commendation of her tremendous literary legacy.
Brooks died Dec. 3, 2000.