Harlem opening: BO's Bagels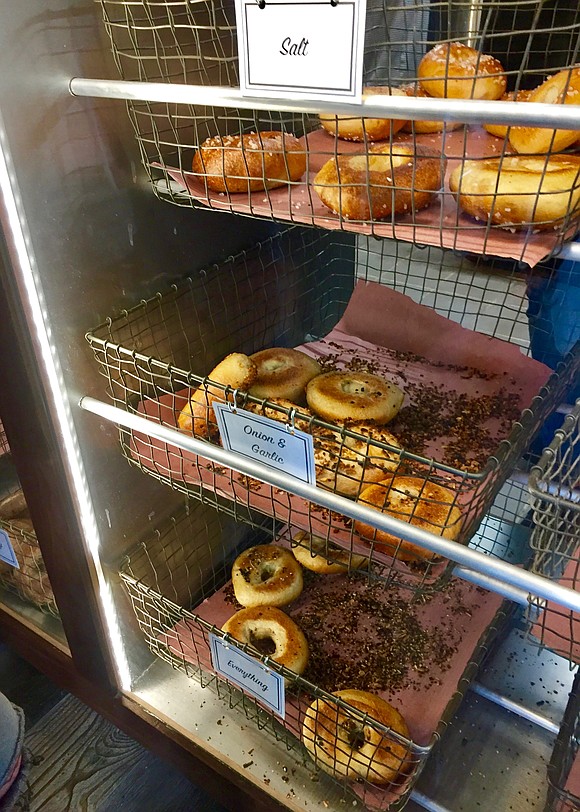 If you are like me and love a good authentic New York City bagel but not the travel to get it, the former street vendor, now brick-and-mortar BO's Bagels (@BOsBagels, 235 W. 116 St., 917-902-8345, www.bosbagels.com) has you covered. Although owners Ashley Dikos and Andrew Martinez will officially open their doors Saturday, March 25, I stepped into their roomy nosh-and-schmear locale for a try.
By an 11 a.m. arrival, BO's was packed and the selection slightly limited, but Andrew was steadily making more. Ashley recommended my favorite, an everything bagel, with a schmear of scallion cream cheese. I could not resist getting a blueberry and BO's signature cinnamon raisin for future consumption. I am awaiting Ashley's secret technique for freezing and reheating their bagels.
BO's bagels are small for the $1.25 price tag, but you cannot beat a fresh properly handmade NYC bagel—now made in Harlem! How does one judge? A good crust and a tender interior from the Eastern European technique introduced in the early 20th century of boiling the bagels before baking them. The ratio between crust and interior produces the perfect chew. BO's has that covered.
Looking forward to hot breakfast and deli sandwiches soon! Thank you for your commitment and congratulations!