HELP USA honors Joe Biden at luncheon in NYC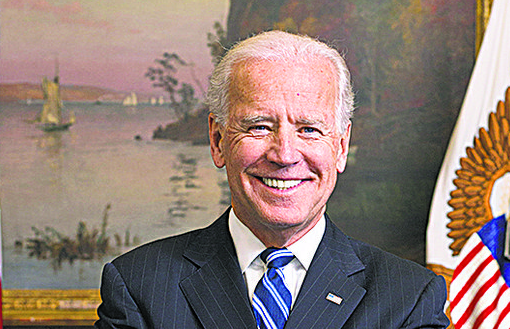 Last week, HELP USA celebrated its 30th anniversary with a luncheon at The Plaza Hotel. At the luncheon, HELP USA founder and New York State Gov. Andrew Cuomo presented former U.S. Vice President Joe Biden with the HELP HERO Humanitarian Award. According to HELP USA, the award acknowledges Biden's service to veterans and their families, and his record of support for domestic abuse and sexual assault survivors, including the Violence Against Women's Act of 1994 and the creation of the first ever White House Adviser on Violence Against Women.
"Vice President Biden embodies the mission of HELP USA to empower the disadvantaged with the housing and support they need to succeed," said Cuomo. "As we celebrate 30 years of HELP USA's extraordinary work, I am proud to honor both a friend and mentor for his tremendous accomplishments which have improved the lives of so many. I congratulate Vice President Biden on this well-deserved award, and I know working together we will continue to lift up the most vulnerable among us."
Biden accepted the honor and delivered a speech that focused on violence against women and the dangers women have faced when dealing with a misogynistic society.
"My father instilled in me and my siblings a basic value set: that the greatest sin is the abuse of power, the cardinal sin is a man raising his hand to a woman or a child, and everyone—and he meant everyone —was entitled to be treated with dignity and respect," said Biden to those in attendance. "We have made tremendous progress in changing the culture around domestic violence and sexual assault since I wrote the Violence Against Women Act in the 1990s, but none of it would have happened without organizations like HELP USA—local community leaders and workers who figuratively and literally reach out and welcome abused women and their children."
Biden added, "HELP USA is simply the best at what they do, and I am so honored and grateful to receive this award from them today."
"Joe represented the struggling middle class," said Cuomo. "That's where he is from, that's what he identified with. That is the same group who now politically are alienated from the political process and believed they have no champion, and that they have no voice. That's what Joe Biden was all about. And Joe tells the truth. "
Cuomo concluded, "Joe calls it like it is and he does it with his own personal style, where he adds a little color and a little emphasis just so you make sure you don't miss the fact."
HELP USA also recognized other civic leaders for their community service, including Northwell Health President and CEO Michael Dowling, former Rockefeller Foundation President Dr. Judith Rodin, Verizon's Vice President of State Government Affairs for New York, New Jersey and Connecticut Leecia Eve and Bridgehampton National Bank President and CEO Kevin M. O'Connor.