Interesting artistic forms at the Met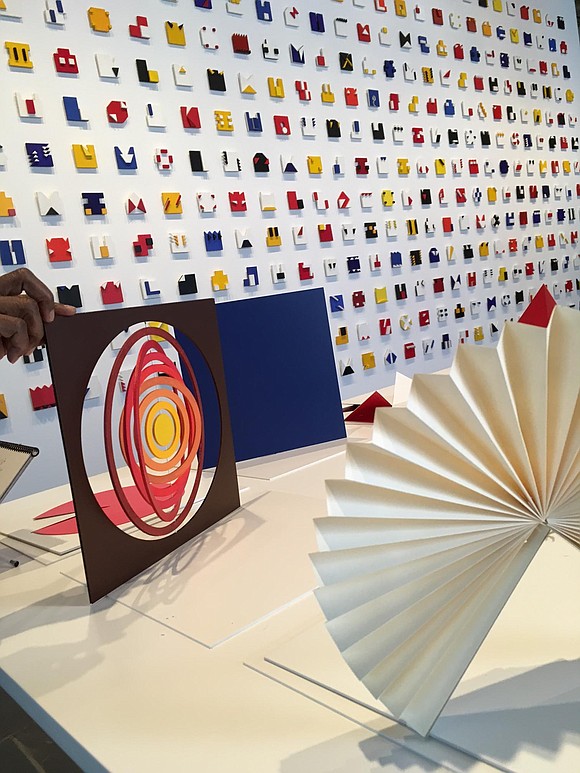 The exhibit, "Lygia Pape: A Multitude of Forms," now on exhibit at the Met Breuer at 75th Street and Madison Avenue, opens on the fourth floor with a multitude of friendly faces peeking out of a sheet titled "Divisor (Divider)." It's a chromogenic print of a "Performance at Museu de Arte Moderna, Rio de Janeiro." It is also shown on film. There are walls and showcases filled with beautiful designs and objects. The exhibition is on view now through July 23, 2017.
This exhibition is the first retrospective in the United States devoted to Brazilian artist Lygia Pape (1927-2004). Pape is a critical figure in the development of Brazilian modern art. In this exhibit, her works combine geometric abstraction with notions of body, time and space in unique ways. Her aim was to integrate art with life experience, which was done very creatively. For children and adults who are curious, there is a showcase with artworks that can be lifted out of the case and examined. These items show youngsters that they can create these pieces themselves and just how each piece works. Most enjoyable was the "Roda dos Prazeres (Wheel of Pleasures)." A wide circle was created with porcelain vessels, droppers, distilled water, flavorings and food coloring in variable dimensions. One bowl of blue water tastes like blueberries. Other vessels with water features flavors that include coffee, chocolate, peppermint, strawberry and other tastes and scents.
The show covers Lygia Pepe's prolific, unclassifiable career. The exhibit utilizes varied media, from sculpture, prints and painting to installation, performance and film. There are corners where you can sit and watch films of children playing and people dancing. Alongside Lygia Clark and Helio Oiticica, Lygia Pape is one of the most prominent artists of her generation. She was part of the Concrete Movement (Grupo Frente) in Rio de Janeiro, reworking the legacies of geometric abstraction.
Throughout the exhibition, you will see a selection of paintings, drawings and reliefs from the 1950s. In this section, there is a select series of her woodcuts and a section devoted to her series of experimental books, including "Livro da Criacao (Book of Creation)" (1959-60).
The exhibition is made possible by the Daniel and Estrellita Brodsky Foundation and the Garcia Family Foundation and the Metroplitan Musuem of Art in collaboration with Projeto Lygia Pape. The exhibition is featured on the museum's website, as well as on Facebook, Instagram and Twitter via hashtag #LygiaPape. It's worth a trip, especially for the family.
For more information, visit www.metmuseum.org.