'Paramour' ends April 16—Go see it!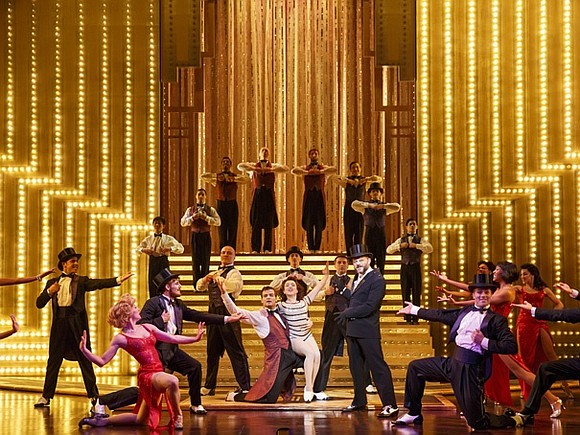 I've told everyone that "Paramour" is a must-see because it is so original and creative, combining circus acrobatics with romance and a star-is-born storyline. The show will have its final performance April 16, so time is running out on your chance to witness a captivating storyline, marvelous singing and some of the most stunning, graceful and lovely acrobatics ever to be brought to a Broadway stage. Creative guide and creative director Jean-Francois Bouchard has unbelievably succeeded in combining the worlds of Broadway theater with engaging storylines of success, ambition, love, film and soaring-over-your-head acrobatics!
An especially engaging element of this production is while the lead actors are singing of their love and struggles, acrobats who represent their characters come out and perform fantastic acrobatics, which illustrate the meaning of the spoken words. Bouchard is amazing and brilliant. This unique, original presentation has artful direction by Philippe Decouflé.
The storyline involves Indigo, an aspiring actress who is discovered by A.J., a film director who casts her as the star of his new movie "Paramour." Joey is the name of a composer Indigo meets and he is also hired by A.J. to compose the music for the film. What's great about the film "Paramour" is that it is a mixture of scenes that include two men trying to win the love of one woman, and that storyline mirrors what's happening in the musical. In one scene, one of the male suitors offers a gift to his beloved—a gift of twin brothers who are skilled acrobats and perform awesomely graceful routines as they swing over the audience's heads. There are also wonderful jugglers in the production. The delightful acrobatic scenes are the work of the acrobatic creative director and acrobatic designer and choreographer, Shana Carroll.
"Paramour" is an experience you will never forget! The production stars Ruby Lewis as Indigo, Jeremy Kushnier as A.J. and Ryan Vona as Joey. Other cast members include Bret Shuford, Sarah Meahl and Kat Cunning. The production has a marvelous live band positioned on both sides of the theater in the balcony boxes. There is also a delightful scene with many players, in addition to the main cast, performing acrobatics by jumping on different trampolines situated on the stage in a building roof scene. This scene is immensely fun to watch.
Go see "Paramour" before its April 16 deadline. Give it a chance to make your spirit soar!