Queens College returns to glory
Lois Elman | 3/23/2017, 1:27 p.m.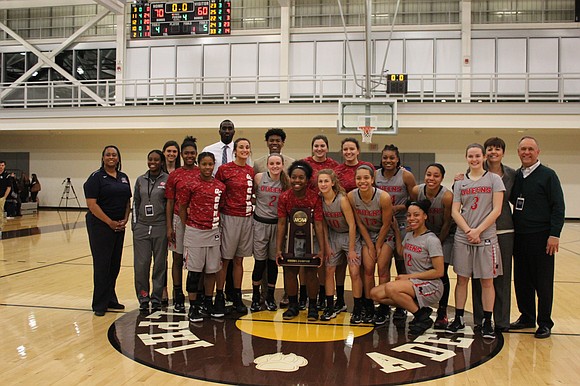 When Elizabeth Naumovski took the job as head coach of Queens College women's basketball, she made sure to thoroughly understand the program's history. Back in the 1970s, Queens was a national powerhouse. Coach Lucille Kyvallos oversaw players who went on to become key figures in the game, such as Gail Marquis, a member of the first-ever U.S. women's Olympic basketball team, and Donna Orender, the second president of the WNBA.
"I felt this responsibility to Coach Kyvallos and her players," said Naumovski, who in March passed 100 wins at Queens and was named ECC coach of the year. "They were so welcoming to me and I could tell they were supportive and wanted to see the program get back on track. I thought I need to make sure that everybody who comes into this program knows what the history of this program is and hopefully feels some sort of indebtedness like I do to those women."
Naumovski built a history wall in the locker room and also put a slogan that reads, "Before you leave this place, put something in the case." This season, the Knights made new history in winning the NCAA Division II East Regional Championship and punching a ticket to the Elite Eight.
No one has put more in the case than senior Madison Rowland. Postseason honors for Rowland have included East Region Player of the Year, All-Region First Team, Most Outstanding Player of the East Regional Championship, 2017 NCAA Division II Conference Commissioners Association Ron Lenz National Player of the Year and D2CCA All-America First Team. Older sister MacKenzie, a redshirt senior, was named All-Region Second Team.
Although redshirt senior Joya McFarland did not garner honors as lofty as the Rowland sisters, Naumovski said McFarland's role on the team has been crucial in catapulting this team into the national rankings and making school history. McFarland believed in Naumovski's vision and had the confidence in herself to be a part of making it happen.
"We have athletes who now maintain standards and expectations," said Naumovski. "They've risen every single year to the challenges we've put in front of them. … The things we did to get us to this place will be good enough to get us to that next place."
The Knights' season ended in the Elite Eight with a 73-69 loss to Harding University.