US mayors fight back against President Trump's 'Big List'
Saeed Shabazz | 3/23/2017, 12:55 p.m.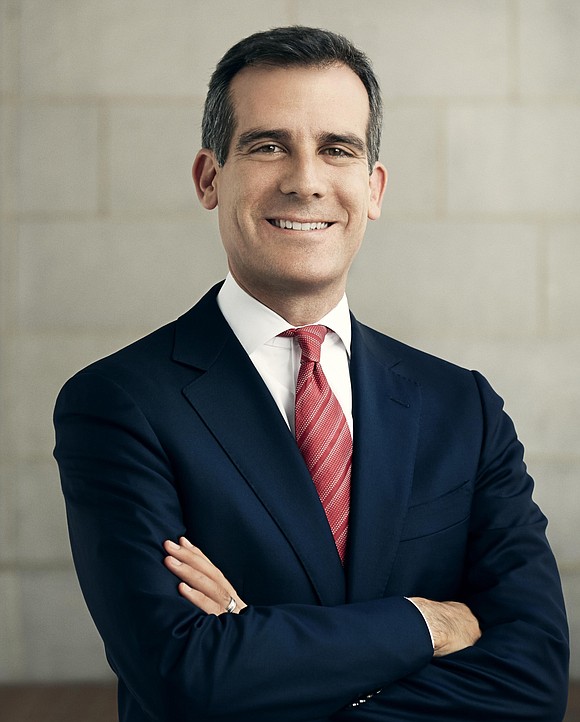 Mayor's from Los Angeles, Providence, R.I., Seattle and Anaheim, Calif., held a teleconference March 21 to explain their Day of Action in support of immigrants and immigration reform. The AmNews joined reporters from across the nation for the bipartisan news conference as the mayors explained the day's activities to demonstrate their cities' support for immigrants and to underscore their value to both the national and local economies.
The mayors urged the Trump administration and Congress to "focus on common sense reforms that will fix the nation's broken immigration system in an efficient, effective and compassionate way."
"This is a day when I think mayors are standing up for universal American values," stated Mayor Eric Garcetti of Los Angeles, USCM Latino Alliance Chairman. "We want to strengthen our nation's security and that happens when we build bridges to one another."
The Day of Action comes one day after the Department of Homeland Security's "Weekly Declined Detainer Outcome Report" stated that dozens of sanctuary cities refused to turn over to ICE illegal immigrants with criminal allegations and convictions.
A convicted arsonist was protected by Los Angeles, according to the report. The allegations or convictions included domestic violence, drunken driving, drug offenses, sexual or aggravated assaults and indecent exposure. The report listed 206 illegal immigrants who sanctuary cities refused to turn over for the period Jan. 28 through Feb. 3.
"This is not a Democratic or Republican issue," said Anaheim Mayor Tom Tait, co-chair of the Immigration Reform Task Force. "It is a bipartisan, universal value issue. I believe as mayor s we are closest to the issue. We have a broken system that we have to work around."
Providence Mayor Jorge Elorza said the president's executive order on immigration doesn't make our cities any safer. "We are pushing back on the president's rhetoric," he said.
"We are a strong city," stated Garcetti. "We're not breaking any laws. We have sovereignty that is given to us by the U.S. Constitution. We are consulting lawyers on how we are abiding by the federal laws."
"As elected officials we have all sworn to uphold the Constitution," Tait said. "We cooperate with the federal government in everything we do. We are urging our partners in the federal government to work with us."
Both mayors responded to a question from the AmNews.


"We argue that immigration reform is working just fine," Theresa Guitierrez of the May 1 Coalition for Worker & Immigrant Rights told the . "The goal of the government right now is to make people susceptible to exploitation by threatening deportation or forcing them further underground."
Guitierrez added, "Under Trump, it is a divide and conquer policy. In other words, 'let me pretend I am fighting for jobs for white workers.'"
She said that missing from the conversation is the root cause of immigration, which is U.S. policy such as war.