Resignation of accused NYPD officer is 'slap in face,' mother says
Eric Levenson, CNN | 3/27/2017, 4:26 p.m.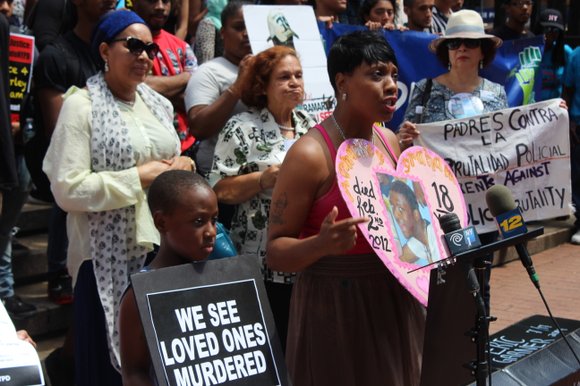 (CNN) -- The decision to allow a New York City police officer who killed an unarmed teenager to resign of his own accord was a "slap in the face" to the teen's mother, she said on Monday.
"A young man was killed, and as I stand here, I have no answer as a mother," Constance Malcolm, the mother of Ramarley Graham, said holding back tears. "How can I move forward and heal? There's no room for that because I still have no answers."
Malcolm's statement came in response to Sunday night's news that an NYPD trial commissioner found officer Richard Haste guilty "on all counts" and recommended he be terminated, according to a statement from the NYPD.
Haste resigned from the department upon being informed of the finding, the statement said.
The internal investigation stemmed from the February 2012 fatal shooting of Graham, who was 18 at the time. Prosecutors charged Haste with manslaughter in June 2012, saying that he had acted "recklessly" when he pursued Graham into a home in the Bronx and then fatally shot him in the bathroom.
Haste, who pleaded not guilty to the charges, told investigators that he saw Graham reach into his waistband, and he said he believed he was reaching for a weapon. No weapon was found at the scene, prosecutors said.
A Bronx Supreme Court judge later dismissed the indictment against Haste, arguing that the grand jury was given flawed instructions.
A federal investigation found insufficient evidence for a criminal civil rights case against Haste, who is white, for shooting Graham, who was black.
Mother calls on NYPD to release internal report
Malcolm said in a press conference Monday that Haste should have been fired five years ago. Allowing him to resign was the "easier way out," she said.
She said she'd like to know if Haste is "allowed to carry a gun, [and] what are the circumstances around that."
Malcolm added, "I need to know. I deserve to know that. I'm entitled to that."
In all, Graham's family called for NYPD to fire two other officers who were involved in the shooting and asked for the internal report on Haste to be released publicly. The family also said Haste should not receive benefits and should not have the right to own a gun, and called on city leaders to meet personally with Malcolm.
An NYPD spokesperson told CNN in a statement that Haste will not receive a pension.
Criticism of de Blasio
Malcolm repeatedly slammed New York Mayor Bill de Blasio and NYPD commissioner James O'Neill for not being transparent about the investigation. She said de Blasio had refused to meet with her and accused him of using Graham's death for his political campaign.
New York Mayor Bill de Blasio said in a statement on Sunday that the NYPD disciplinary trial made the "right decision" in recommending the termination of Haste.
"Ramarley Graham was a son, a friend and, most importantly, a young man with his whole life left to live," de Blasio said. "Nothing can take away the profound pain left after his loss, but I hope the conclusion of this difficult process brings some measure of justice to those who loved him."
Loyda Colon, co-director of the Justice Committee, said she disagreed with the mayor saying that the investigation was the "conclusion" of the case, saying it was "wishful thinking" on his part.
"We want to make it clear from the beginning that this is not justice or accountability," Colon said. "Haste should never have been given the opportunity to resign."
In 2015, the Graham family received a $3.9 million settlement in a wrongful death lawsuit against the city, Jeffrey Emdin, a lawyer representing the Graham family told CNN.
CNN's Sarah Jorgensen contributed to this report.