Appreciation for the Rev. Elizabeth Alston-Crouell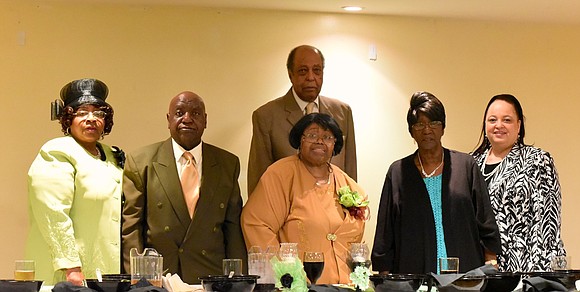 Saturday, March 25, 2017, Stephen Community African Methodist Episcopal Church and the Harlem community held an appreciation luncheon to honor one of their own, the Rev. Elizabeth Alston-Crouell. Crouell was born the third of six children, from the marital union of the late Robert L. and Dieanna Hughie-Alston in Georgetown S.C. Crouell was educated in the public schools of Georgetown. After graduation from Howard High School, Crouell moved to New York City and attended a Dental Vocational School and Bronx Community College, and became a nurse. She retired after working more than 45 years caring for the sick, afflicted and elderly. She also served as a foster mother to many "little darlings" as she affectionately called them. After retirement, Crouell became a beauty consultant, providing skin care and fragrances for both female and male clients. Her entire career was led and driven by service to others.
Crouell has been married to her husband and best friend, Brother Eddie Crouell, for the past 43 years. They are the proud parents of four grown children, James, JoeAnn, Tiffany and Justine. She has several grandchildren and great-grandchildren. Croeull's theological training began at Saint James Full Gospel Church under Dr. Clara E. Pierce. She furthered her Christian ministry by attending the Manhattan Bible Institute and the New York Conference Theological Institute, where her ordinations were conferred. Always striving to improve, she continues to study, teach and preach, working out her own soul's salvation.