Constance Malcolm still wants justice for son Ramarley Graham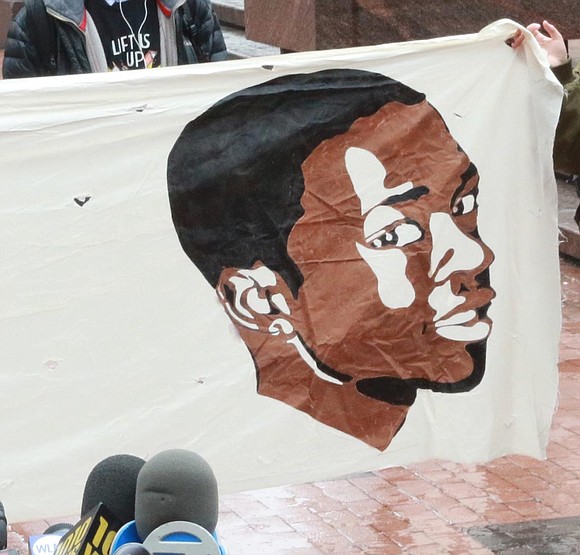 The scene outside of One Police Plaza Monday morning could be deemed surreal. A few dozen feet from the location of a news conference with Constance Malcolm, actors shot a television show scene that depicted cops and protesters holding up pictures of a Black girl.
But Malcolm was more concerned about her son, Ramarley Graham, who was shot and killed five years ago by New York Police Department officer Richard Haste in the Wakefield section of the Bronx. Graham, who was unarmed, was chased by police into his own home after being suspected of holding marijuana. Haste said that he thought Graham had a gun when he shot him in the bathroom. That proved to not be true.
Friday, Haste was found guilty in a disciplinary trial of botching department tactics during the fatal shooting. Administrative Judge Rosemarie Maldonado recommended that he be fired, but Haste resigned from the force before he could be terminated. Malcolm didn't find out about the resignation until Sunday.
"I'm standing here with a slap in the face," said Malcolm. "Same disrespect over and over for five years. What other employer would allow this? What other employer would this man so much leeway ... so much opportunity to profit from a young man's death?
Haste was initially indicted in 2013, but because of the district attorney's office giving the grand injury improper instruction, he didn't go to trial.
Elected officials spoke out against the ruling as well.
"The fact the Richard Haste was allowed to leave on his own terms, resigning before termination, robbed Constance Malcolm of an important emotional and moral victory," said City Councilman Jumanne Williams in a statement. "It also robbed supporters and advocates, who through each denial of justice, told her and her family to just hold on, 'we will prevail.' On a day that we all should be using to celebrate this step forward in accountability that has been lacking, somehow we still fell short. Not to mention the fact that Richard Haste should have been removed from the force years ago, denying him promotions received on Constance Malcolm's taxes."
New York City Council members Andy King and Inez Barron attended the news conference and denounced the NYPD and New York City Mayor Bill de Blasio.
"We're gonna continue to stand right this family," said Barron. "We have not received justice. And, once again, the NYPD is indicating that no, they do not respect Black lives and that they think police officers have an advantage and their lives and their livelihood can outweigh what crimes they commit."
King told reporters that there wasn't a difference between Haste and James Jackson, the young white man from Baltimore who traveled to Manhattan specifically to kill Black men.
"We just recently had another crazy Caucasian who thought it was OK kill a Black person, and stab them in the back and think it's OK," said King. "This is no different because at the end of the day, no one's been held accountable."
Graham's family attorney, Jeff Emdin, targeted the NYPD for attempting to alter public opinion of Graham five years ago after he was killed.