Misty Copeland talks new book, 'Ballerina Body'
Zita Allen | 3/30/2017, midnight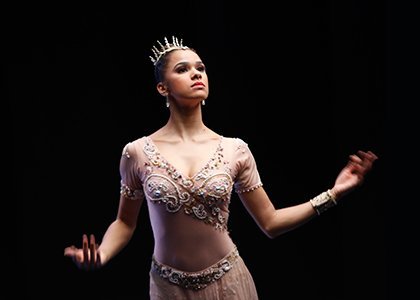 American Ballet Theatre principal dancer Misty Copeland's latest book "Ballerina Body" has hit bookstores, and her excitement was palpable as I interviewed her in the "green room" at the Union Square Barnes & Nobles before the start of an event drawing a capacity crowd—young, old, Black, white and Brown. Nearby are her husband Olu Evans, manager Gilda Squire, the book publisher's PR Director Linda Duggins and a vivacious model named Damaris Lewis whose been a friend since Prince introduced them a few years ago. Lewis chatted with Copeland before the signing, where she ended up autographing not only books but also Barbie dolls, her "Firebird" book, pointe shoes and photos and in addition to posing for selfies.
This event was the first leg of a book tour crammed into a calendar that includes her April debut in ABT's production of the major romantic ballet "Giselle." Then, during the company's spring season at the Metropolitan Opera House, Copeland stars in "Swan Lake," "Don Quixote," "Le Corsaire" and the premier of Alexei Ratmansky's full-length ballet, "Whipped Cream."
Asked how she's doing, Copeland smiled and said, "I'm taking class, but I didn't perform in California because, since my surgery a few years ago, I'm learning I have to manage my physical workload. Kitri in 'Don Q' and 'Giselle' are some of ballet's biggest jumping roles. I've been rehearsing them every single day for three weeks while also working on 'Whipped Cream.'" But, in two weeks, after this brief hiatus Copeland said she'll be ready to tackle her "Giselle" debut in Oman.
Today, it was all about the book and in the morning after her ballet class, she appeared on the "CBS This Morning," chatting with Oprah's friend and the show's co-host, Gayle King, and then she dashed off to the "Dr. Oz Show," where she made a smoothie with him using one of the recipes from her book. A raspy voice was the only hint of how hectic the day was.
"I think I'm losing my voice," she said with a broad grin as we dived into the Amsterdam News interview.
"Ballerina Body," Copeland said, is not about urging women to fit some cookie-cutter mold conjured up by the word "ballerina," but to "show women everywhere how to reach their body goals and achieve what they see as their best selves." The format says it all. Divided into four sections, the book focuses first on our mindset, and then describes ballet-based exercises anyone can do, followed by some of her favorite recipes and ending by highlighting the human connections that feed the soul.
"So much of the book's structure stems from the ballet technique that is such a huge part of my life," Copeland said. Sure, she's "gotten a few crazy comments on social media" such as, "You're a ballerina and you're writing a book about health? What do you know?" But, she realizes these comments are driven by the impression some have that "ballerinas don't eat but just put on a tutu, go out onstage and it doesn't take any energy to twirl around."