The real hate that hate produced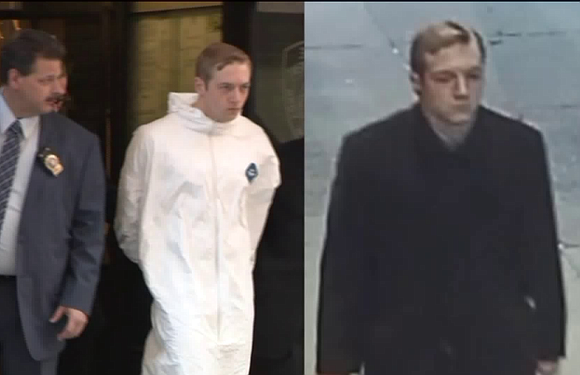 James Harris Jackson is not mentally unstable. He's a domestic terrorist.
The recent stabbing of an elderly Black man by the self-proclaimed white supremacist puts him in the same category as the 9/11 hijackers and the Boston Massacre bombers.
March 17, Jackson, 29, traveled by bus from Baltimore, Md. to New York City with the intention of killing Black men. Three days later, he went to the Hell's Kitchen neighborhood and walked up to 66-year-old Timothy Caughman with an 18-inch sword and stabbed him to death. Jackson turned himself in to police March 22 and told police he planned to attack more Black men in Times Square.
Jackson is charged with murder in the first and second degrees as an act of terrorism, murder in the second degree as a hate crime and three counts of criminal possession of a weapon.
In a jailhouse interview, Jackson, a U.S. Army veteran, said he was raised by a liberal family but was lifelong white supremacists himself, even though he voted for Barack Obama. He wanted to kill Black men to prevent interracial relationships. He was a frequent visitor of the Daily Stormer website, a known place for white supremacist rhetoric.
"The white race is being eroded. ... No one cares about you. The Chinese don't care about you, the Blacks don't care about you," he said. "I had been thinking about it for a long time, for the past couple of years. I figured I would end up getting shot by police, kill myself or end up in jail."
Jackson added that he wanted to kill "a young thug" or "a successful older Black man with blonds" and regretted killing Caughman because of his age.
Caughman is being remembered as a man who was well-loved by his neighbors and family. Raised in the South Jamaica Houses in Queens, he held an associated degree from Brooklyn College and was a social service worker.
On the night of his murder, Caughman was collecting cans and bottles for recycling to earn money not far from where he lived in the Barbour Hotel on West 36th Street.
Active on social media, he often took photos with celebrities, including Beyoncé, Oprah Winfrey and Wyclef Jean.
"Can and bottle recycler, autograph collector in New York City and I would love to visit California," he said in his profile bio. "I'm a good businessman."
"He was an extremely gracious individual and respectful of his neighbors," said Svein Jorgensen, the manager of the building where Caughman lived, in one interview.
The focus is now shifting to how such a hate crime could happen in New York City, which thrives on diversity. Officials are speaking out about the crime in hopes of igniting a movement for more tolerance among New Yorkers.
"James Jackson prowled the streets of New York for three days in search of a Black person to assassinate in order to launch a campaign of terrorism against our Manhattan community and the values we celebrate," said Manhattan District Attorney Cy Vance.