Reflections on hip-hop pioneer Mr. Magic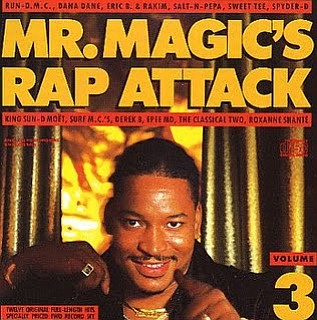 Last week, in acknowledgement of his 61st physical day anniversary, the hip-hop community paid due respect to one of the urban culture's most influential pioneers, Mr. Magic. His partner, DJ Marley Marl, paid tribute to him during his "Marley Marl Noon Mix Show" Wednesday and again Friday during his "Golden Era" radio program (8 p.m.-10 p.m.), both on 107.5 WBLS FM.
Born in the Bronx March 15, 1956, John Rivas, aka Mr. Magic, became the first DJ on commercial radio to have an exclusive hip-hop music radio show with his "Rap Attack" program, featuring DJ Marley Marl and co-producer Fly Ty, on WHBI 96.3 FM in 1981. This time was at the dawn of hip-hop music, during the era when disco, funk and soul music dominated Black radio, and virtually no rap music was played over commercial air waves.
"Hangin' posters on my wall, every Saturday, Mr. Magic, Marley Marl"—Biggie Smalls in his 1994 hit single, "Juicy"
In July 1982, "Rap Attack" premiered on WBLS 107.5 FM, beaming hip-hop music, which was then primarily heard at local house parties, in city clubs, on college radio and on cassette tapes of classic live park battles, straight into millions of people's homes and cars, each Friday and Saturday night from 9 p.m. to midnight.
"Mr. Magic is the Frankie Crocker of hip-hop," contends music producer Witch Doctor, who crafted the tracks for Masta Ace's 1991 single "Jeep A$$ N!&&@" and Biggie Smalls' original "One More Chance."
"Mr. Magic's Rap Attack" helped validate hip-hop music, which many at the time considered to be just a fad. Magic and Marley broke countless acts on their show, launching many careers. Some recall legendary freestyle features by previously unknown artists who soon thereafter became household names.
For example, in 1984 while riding the Staten Island Ferry, he discovered the Force M.D.'s, expressing their unique blend of doo wop, hip-hop, harmonizing soul. He brought them up to his show to display their skills and shortly thereafter they were signed to Tommy Boy Records.
Also that year he recorded the inspirational "Magic's Message (There's a Better Way)," his only record as an artist.
Throughout the next several years Mr. Magic and Marley Marl assembled one of the most respected crews of hip-hop artists ever, known as the Juice Crew, featuring MC Shan, TJ Swan, Biz Markie, Kool G Rap & DJ Polo, Masta Ace, Roxanne Shante, Big Daddy Kane, Craig G and Tragedy. This assortment of artistic talent upped the ante for all other aspiring artists as they lay the foundation for what eventually became known as hip-hop's Golden Era.
It was Mr. Magic's denial of a then unknown KRS-One's inclusion into the Juice Crew that sparked one of hip-hop's most competitive and popular rivalries, known as the legendary Bridge Wars. KRS was later backed by Kool DJ Red Alert at the competing 98.7 KISS FM radio station. The spirited artistic battles helped bring more attention to the fledging hip-hop generation, while also serving to display its diversity.