Reflections on Shirley Chisholm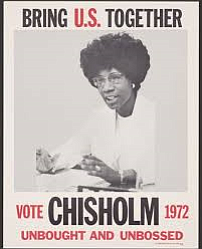 Too bad, Barack. Too late, Hillary. Shirley beat y'all to it! Democratic presidential candidate Hillary Rodham-Clinton's recent run to become this country's first female commander in chief conjures up memories of another woman who also had high hopes of sitting in the Oval Office one day.
"Reagan is the prez, but I voted for Shirley Chisolm" rapped hip-hop artist Bizmarkie on his 1987 hit single "Nobody Beats the Biz."
That line introduced the first undiluted African-American female candidate to make a serious bid for the U.S. presidency to the then fledging hip-hop generation.
Born Shirley Anita St. Hill in Brooklyn, Nov. 30, 1924, she had three younger sisters. Her parents sent her to their native West Indian homeland to acquire a thorough elementary education.
In her 1970 autobiography "Unbought and Unbossed," she wrote, "Years later I would know what an important gift my parents had given me by seeing to it that I had my early education in the strict, traditional, British-style schools of Barbados. If I speak and write easily now, that early education is the main reason."
She returned to Brooklyn and attended Girls' High School in Bedford-Stuyvesant, and went on to earn tuition scholarships to several prestigious institutions, eventually choosing Brooklyn College, where she was close to home. It is also where she became politicized, being active on campus in community groups.
After graduating from Brooklyn College in 1946, she began teaching at local public schools, and went on to earn her master's degree in elementary education from Columbia University in 1952. Around this time, she got involved with organizations such as the League of Women Voters and the 17th Assembly District Democratic Club.
She married Conrad Chisholm in 1949 and continued working with area youths.
In 1964, she was elected to the New York State Assembly, and four years later she became the first African-American congresswoman, beating civil rights leader James Farmer. In 1969, she was one of the founding members of the Congressional Black Caucus.
Jan. 25, 1972, she continued her trailblazing ways in formally announcing her presidential aspirations at Bed-Stuy's Concorde Baptist Church (833 Marcy Ave.), where she called for a "bloodless revolution."
Riding the "Unbought and Unbossed" campaign slogan, Chisolm became the first major-party African-American candidate to make a serious bid for the U.S. presidency.
Although she did not win the Democratic nomination, she did garner an impressive 10 percent of the vote from an ethnically diverse pool of supporters and won 28 delegates during the primaries.
Chisholm later said she ran for president "in spite of hopeless odds ... to demonstrate the sheer will and refusal to accept the status quo." She added, "When I ran for the Congress, when I ran for president, I met more discrimination as a woman than for being Black. Men are men."
She continued fighting for education opportunities, civil rights, aid for the poor, social justice and women's rights. She also wrote two books, "Unbought and Unbossed" (1970) and "The Good Fight" (1973).
Chisolm left congress in 1983 to teach, and the following year co-founded the National Political Congress of Black Women. She also assisted with Jesse Jackson's 1984 and 1988 presidential campaigns.
At the age of 80, Chisholm joined the ancestors Jan. 1, 2005, in Ormond Beach, Fla.
Jan. 31, 2014, the Shirley Chisholm Forever Stamp was issued. Then in November 2015, President Barack Obama posthumously honored her with the Presidential Medal of Freedom at a White House ceremony.