Trump administration ending Michelle Obama's girls education program
Kevin Liptak, CNN White House Producer | 5/1/2017, 2:24 p.m.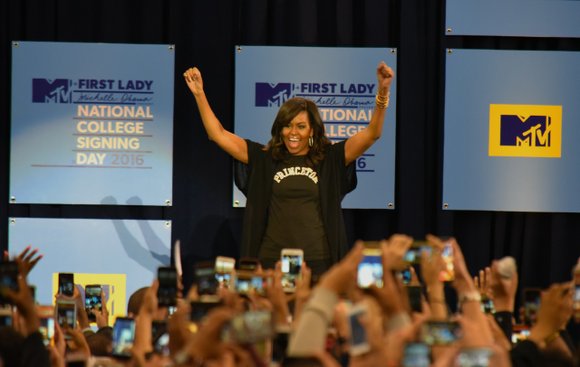 WASHINGTON (CNN) -- The Trump administration is discontinuing a signature girls education initiative championed by former first lady Michelle Obama, according to officials.
The "Let Girls Learn" program, which she and President Barack Obama started in 2015 to facilitate educational opportunities for adolescent girls in developing countries, will cease operation immediately, according to an internal document obtained by CNN.
While aspects of the initiative's programming will continue, employees have been told to stop using the "Let Girls Learn" name and were told that, as a program unto itself, "Let Girls Learn" was ending.
"Moving forward, we will not continue to use the 'Let Girls Learn' brand or maintain a stand-alone program," read an email sent to Peace Corps employees this week by the agency's acting director Sheila Crowley.
" 'Let Girls Learn' provided a platform to showcase Peace Corps' strength in community development, shining a bright light on the work of our Volunteers all over the world," Crowley wrote. "We are so proud of what 'Let Girls Learn' accomplished and we have all of you to thank for this success."
News of the program's end came the same day President Donald Trump's agriculture secretary, Sonny Perdue, was visiting an elementary school in suburban Virginia to announce changes to another initiative spotlighted by the former first lady, healthy school lunches.
Perdue was set to unveil a rule change "providing regulatory flexibility for the National School Lunch Program" during a visit to Catoctin Elementary School in Leesburg. Like "Let Girls Learn," improving the nutritional quality of school meals was a major focus of Obama's during her tenure as first lady.
It wasn't immediately clear how Perdue's announcement would alter the nutritional makeup of school lunches nationwide, though health advocacy groups warned that backtracking could prove dangerous for children.
"Rather than altering the current path forward, we hope the agency focuses more on providing technical assistance that can help schools get across the finish line, if they haven't done so already," said American Heart Association CEO Nancy Brown.
"Let Girls Learn" was an inter-governmental initiative run primarily at the Peace Corps and the United States Agency for International Development. A spokesman for the Peace Corps said Monday the agency would continue its efforts toward girls' education.
"The Peace Corps continues to prioritize girls' education and empowerment programming," the spokesman said. "Girls' education and empowerment has been a hallmark of our work over the past 56 years and we look forward to continuing those efforts with our interagency partners. We remain dedicated to the passionate work of our volunteers and staff to empower and educate girls in their communities."
Tina Tchen, who served as Obama's chief of staff during her time in the White House, said the end of "Let Girls Learn" was a disappointment given a global recognition that educating young women could help improve conditions across developing nations.
"We felt it was important to have a branded campaign that drew attention to those issues, and we found that when we did it, we had extraordinary support," Tchen said. "I think it's unfortunate to not continue with the branded campaign. We think that this is an issue that has bipartisan support, it's really not a Republican or Democratic issue."