De Blasio proposes $84 billion budget, Trump looms over it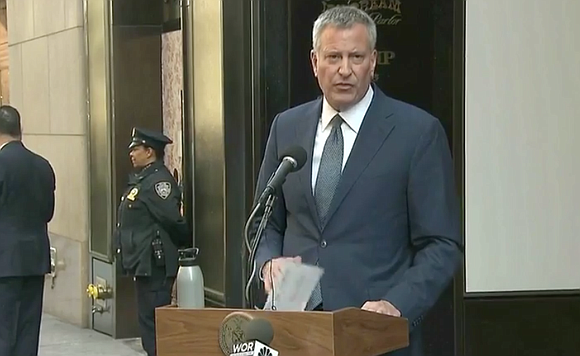 New York City Mayor Bill de Blasio's proposed budget attempts to combat the Donald Trump administration. De Blasio's $84 billion budget for Fiscal Year 2018 could be a low estimate considering that the budget for the last fiscal year was $3 billion more than estimated.
With President Donald Trump proposing cuts to places such as the New York City Housing Authority, de Blasio took some precautions, keeping $1 billion in reserves from the previous budget, not to mention looking for other ways to save money via overtime reduction and hiring freezes.
"This budget continues our effort to address those realities head-on," said de Blaiso. "Now, the things we want to focus on. Not only making sure people can somehow scrape the money to live on, but that New Yorkers can live a decent life and enjoy all that this great city has to offer, and ensuring the city is not only stronger in the future, but fairer in the future as well. That is the fundamental goal of this budget proposal."
"There's really no one who knows where all this is going. The ground rules that we may have assumed to exist in the past is hard to see right now," continued de Blasio. "That being said, I think a subjective statement that compared to a couple months ago when we presented a preliminary budget, we have been shown that some of the most pernicious proposals coming out of the White House will not be easily achieved."
But members of the nonpartisan research group, the Citizens Budget Commission, believe that de Blasio hasn't fully factored in what Trump could do to the mayor's plans. With a wild card in the White House, the CBC wanted de Blasio to be more frugal.
"In an atmosphere of political and economic uncertainty, the New York City Executive Budget for Fiscal Year 2018 should have exhibited more spending restraint," read a statement by CBC President Carol Kellerman. "Despite reductions in the tax revenue forecast and minor reductions in state aid, the Budget adds more than $700 million in new agency needs in fiscal year 2018. This spending growth is not accompanied by any additional increase to the city's budget reserves, and budget gaps projected in future years have grown."
Kellerman said that, if approved, the proposed budget would increase the size of the budget by 17 percent since Mayor Michael Bloomberg's final budget in November 2014.
One of de Blasio's proposals includes Universal 3-K, which would provide early education for 3-year-olds starting with kids in the South Bronx and Brownsville, Brooklyn. The 2018 proposed budget sets aside $16 million for the first year of the program with eventual expansion by 2021 leading to a total investment of $177 million. Full implementation of the program, however, would require $700 million in state and federal funding.
Others are satisfied with de Blasio's budget overall, but felt he didn't go far enough. Professional Staff Congress/CUNY President Dr. Barbara Bowen praised the mayor for continuing commitments to STEM programs and increased funding for CUNY's Accelerated Studies in Associate Programs initiative. But Bowen also wished de Blasio did more.