De Blasio proposes $84 billion budget, Trump looms over it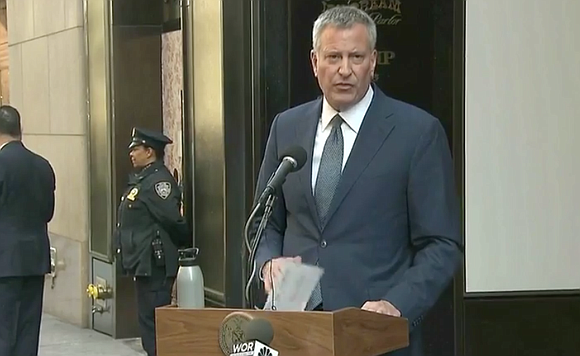 "What's missing for CUNY students in the Executive Budget is the $35 million investment the University requested for the Faculty Partnership for Student Success Initiative, a plan to allow CUNY faculty more time to mentor and advise students and more time to engage in academic research that is essential to high-quality teaching," said Bowen in a statement. "A large body of research and CUNY's own experience with ASAP shows that students are more successful and are more likely to stay on pace to graduation when they receive greater individual attention from faculty."
De Blasio's budget also includes a $16 million investment into legal services for people facing deportation and detention, unaccompanied children and asylum seekers. But Steve Choi, executive director of the New York Immigration Coalition, said de Blasio left some people out of the investment.
"At a time when immigrants are under senseless attack by the federal government, this is still our New York: a city made strong by its diversity," said Choi. "But we are extremely disappointed to see the mayor leave behind adult learners, the majority of whom are immigrants. Without a renewal of last year's investment, thousands of adult learners will lose their classroom seats starting July 1. We urge the City Council to restore the investment to $12 million and continue to be champions for equality and access for all."
Glenn E. Martin, president and founder of JustLeadershipUSA, likes the proposed budget in terms of how it addresses the means of incarceration, but he's still waiting for Rikers Island to be properly addressed.
"The #CLOSErikers campaign commends Mayor de Blasio for including $1.1 billion in his proposed budget for modern, community-based facilities, as long as that vision includes the simultaneous demolition of the antiquated Rikers Island jails," said Martin. "However, the continued absence of a concrete plan for closing Rikers and how this latest budget allocation fits into it is unacceptable. It reinforces the need for the mayor to appoint an official to oversee the speedy process of closing Rikers and establish a smaller, fairer, and more humane criminal justice system."