"Take Our Daughters and Sons to Work Day" at Kings County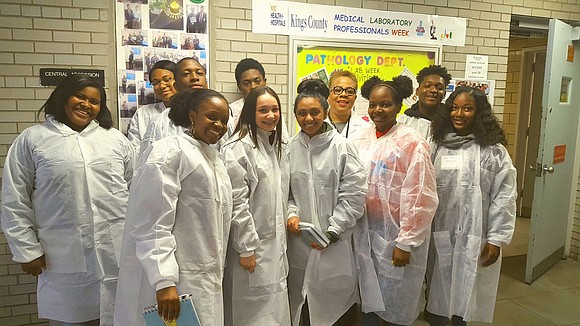 Thursday, April 27, NYC Health + Hospitals/Kings County participated in the international campaign, "Take Our Daughters and Sons to Work Day." With the enthusiastic participation of its leadership and employees, the hospital hosted 45 youth between the ages of 8 and 18 years old for the entire day. Chief of Staff Natasha Burke greeted the children and drew cheers when six children responded that they were born at NYC Health + Hospitals/Kings County. The day started with taking family portraits, breakfast and interactive presentations from Infection Control, Pediatrics, Nurse Midwives, Nutrition and Maternal-Child Nursing. Children lined up to use infection control's "glow germ" machine, to understand germ transfer and learn about the importance of hand-washing. There was a special session for teenagers, "Ask the Doctor," where youth were able to sit in small groups with pediatricians Melissa Lee and Luciana Michel.
All of the youth participated in a series of exciting tours, visiting inside the vehicles of NYPD and Kings County Hospital Police; touring the various laboratories of the Pathology department; viewing X-rays and equipment in Radiology; experiencing the Behavioral Health Sensory Modulation Room; learning about testing procedures for respiratory functions; and learning about pharmacy robotics. This activity was all before lunch! After a delicious meal and time to relax, the Trauma team, led by injury prevention coordinator Elizabeth DeWan, did an overview on "Stop the Bleed" to show youth what to do in the event of a traumatic injury. Some youth won bicycle helmets by participating in a Q&A exchange. There were tours to the Rehabilitation Medicine department, where they learned about recovery methods, and then to the Operating Room, where Susana Consolacion, RN, had the youth put on gowns to see what goes on inside the OR.
The day ended with movies and popcorn, health insurance information from MetroPlus and Fire Safety packets from the Safety Management department. The theme "Count on Me!" was certainly demonstrated by the staff and volunteers of NYC Health + Hospitals/Kings County. The outstanding teamwork helped to show our children the diverse range of health care careers and the importance of education as well as work-life balance. The youth took a big group photo with Hospital Police, led by Director Juan Checo and Assistant Directors Juan Toranzo and Kevin Bryant. As they left with their Kings County gift knapsacks, many of the youth were already asking when they could come back.