Coachella Valley Music and Arts Festival
MEGAN PINCKNEY | 5/5/2017, 4:43 p.m.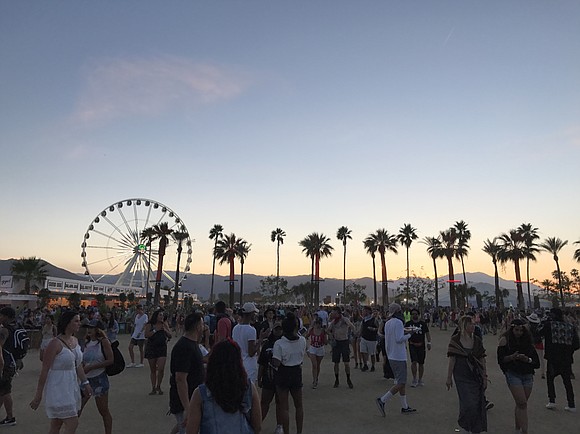 One of the biggest music festivals of this generation concluded part two this past week in the middle of the desert, two hours east of Los Angeles, in Coachella Valley. Spread across what is usually a cluster of luxury polo fields, the festival is a two-weekend, three-day dance party with live performances from the biggest names in pop, hip-hop and electrical dance music. These performances far outweigh most other outdoor concerts because unlike those festivals—held on a gigantic standard stage in some local park or some street intersection—this festival has stages that are run by people with skills from Hollywood and Silicon Valley.
Each of the eight stages is designed to be distinctively different. Some are nearly enclosed, and others are complete open-air venues. Artists who would naturally garner the biggest crowds—Lady Gaga, Future and Kendrick Lamar—performed in the open-air venues, whereas DJs and EDM performers made great use of the enclosed venues. I considered the tents and domes to be the most fun because they gave you a multitude of sensory-numbing experiences through light and sound.
In conjunction with the good music and a killer view (there's the surreal sight of a massive Ferris wheel in between rust-colored mountains and a line of giant palm trees), there is good food and a surprising number of options. The festival offered everything from burritos and poke bowls, to grilled cheese and fried chicken. There were places to grab a quick bite and places with more of a restaurant feel. There were also popsicle stands, juice bars and even a place to order acai bowls.
But don't let the perfectly constructed productions and well-thought-out site fool you. The festival is gritty. It takes place in the middle of the desert, which means, more than likely, the climate will be vicious. The days are long and hot, and the nights are cool and windy. Sand storms are known to happen without a moment's notice, causing pain anywhere bare skin is exposed. Once the sand has settled, it's still in the eyes and mouth of everyone not wearing a bandanna.
I'd be lying if I said festivalgoers allowed the climate to affect their outfits. Of course, it would be smart to bring layers to keep warm when the sun sets, but for the most part, anything goes when it comes to dressing for Coachella. Most people stick to a bohemian or desert theme, but tons of people throw on whimsical costumes and don eccentric makeup and face jewels. Coachella is a place to feel free and let yourself go. Your outfit is the perfect place to start. My only advice is don't make the same rookie mistake I did and wear brand-new shoes. You have to do a ton of walking and any shoe that isn't "broken in" will kill your feet.
The festival is not just a music festival. The Coachella Valley Music and Art Festival is home to original large-scale art installations by both established and up-and-coming artists. The art takes the form of landmarks for festivalgoers, as it is impossible to miss. Every year different artists create completely different pieces, making each installation a distinguishing memory of each individual year.