Coachella Valley Music and Arts Festival
MEGAN PINCKNEY | 5/5/2017, 4:43 p.m.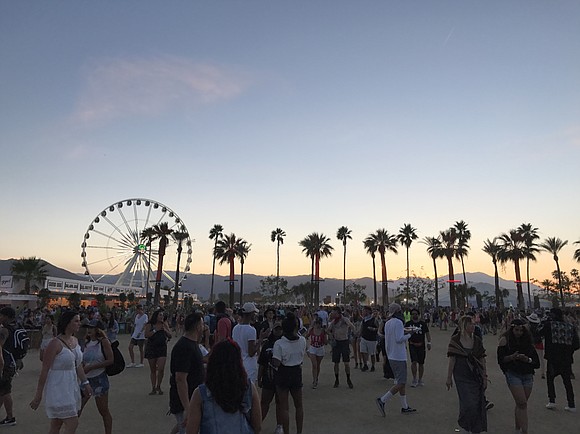 If you live anywhere other than California, planning a trip to the festival is challenging but totally doable. First, you should decide which airport you want to fly into. The Palm Springs airport is the best option because it's approximately 45 minutes from Indio (where the festival grounds are located). You could also fly into Los Angeles International and spend a night in the city, or take a shuttle straight to Coachella Valley— $70 for a one-way ticket.
Once you decide where you'll land, you should then decide on where you plan to spend your nights. There are four practical options. The first is rent a tent from the festival and camp glamorously (glamp) on-site! Each tent sleeps two or four people and there are two glamping sites. The Eldorado site is made up of tee pees and cots on a lake, and starts at $2,398 for two people with access to general admission. The Safari tents are much more glamorous with actual beds, air conditioning and an access to a private lounge that offers breakfast and late night food. Those tents start at $7,500.
The second option is to set up your own camp on the grounds of the festival. For the cost of only $113 you could opt to set up your own campsite. The catch is you're responsible for everything you will need for the weekend, down to the toilet paper. The third option is to sleep in a hotel in one of the nearby cities and pay $75 to catch the shuttle bus for the weekend.
The final option is to rent a fabulous house in Palm Springs and drive about 45 minutes to the festival, which is exactly what my friends and I did. Although this option gave us much more flexibility and the opportunity to make different memories, there is a reason people choose to camp out. The walking distance from your car in the day parking lots to the actual festival grounds, and vice versa, is easily 2 miles.
General admission weekend passes for the festival start at $399 and can be found on the festival's website. But they usually sell out the day they go on sale. If that happens before you are able to make your purchase, don't get discouraged. Tickets are resold on sites such as StubHub and Craigslist. Tickets can even be found on Coachella Facebook group pages. If you do plan to buy from an individual rather than a ticket resale company, try to do it in person so you can register your pass with the individual, or send money through a company such as PayPal, which can insure your transaction.
Megan Pinckney (@shadesofpinck) is a retired beauty queen turned lifestyle blogger who loves exploring the
world and writing about it.