Dance Calendar May 2017
CHARMAINE PATRICIA WARREN | 5/5/2017, 4:32 p.m.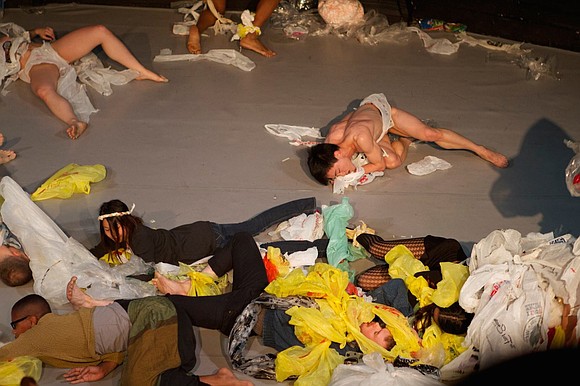 Heading up this month's calendar is LaMama Moves! Dance Festival (May 18-June 4), now in its 12th year, curated by Nicky Paraiso with a lineup of "…different generations of choreographic artists dealing with the actual day-to-day contemporary, political, social and ecological challenges that we face in our world," said Paraiso. The impressive lineup includes White Wave Young Soon Kim Dance Company (May 18-21), Jeremy Nelson and Luis Lara Malvacías "3rd CLASS CITIZEN" (May 19-20), Company SBB Stefanie Batten Bland (May 25-28), Shared Evening: Beth Graczyk | Mariana Valencia (May 25-26), Astad Deboo (May 25-26), Malini Srinivasan (May 27-28), Shared Evening: Brendan Drake | Jasmine Hearn (May 27 - 28), Shared Evening: Yoshiko Chuma | Rady Nget | Brother (hood) Dance! (May 25-26,) Shared Evenings: "Curated" by Maura Nguyen Donohue (May 27-28), and Maura Nguyen Donohue
(May 25-26 and June 1-3).
Paraiso continued, "In these perilous, challenging and unpredictable times in our country and in the world, we can look to the performing arts for some clues as to how we might respond and continue to live our lives with vigilance, and hopefully a modicum of wisdom, to keep asking even more vital and bold questions."
La MaMa's 55th season of the Block Party takes place Saturday, May 20. For more information, visit www.lamama.org
STILL RUNNING
April 28-May 27—The Bronx Dance Fest continues with "Dancin' in the Bronx" (May 6). BAAD!'s signature concert featuring nine choreographers from the Bronx and beyond, including Francheska Alcantara, William Briscoe, Rodney A. Brown/The Brown Dance Project, Kayla Farrish/Decent Structures Arts Collective, Alvaro Gonzalez Dupuy, tsaihsi hung, Gerard Minaya and slowdanger. Francesca Falchi and Marta Proietti Orzella "Der Puff" (May 10), co-presented with in Scena, and "…borders on a German cabaret that tells the stories of women living under Nazism." "Dancing While Black: Epic Memory Lab," (May 13), where dancer/choreographer/artist Nia Love invites everyone to come together to share age-old traditions. Nelida Tirado "Dime Quién Soy" (May 19-21) "…embarks on a…journey between bomba, salsa and flamenco 'dancing between cultures' in celebration of her authentic self," notes the release. Two free events: "On the Verge" Lehman College Dance Concert (May 22), with artists from the Lehman College Dance Program as they take over BAAD!'s stage, and Meet the Artists: Dance Your Future 2017 (May 25), which offers an opportunity to meet Beatrice Capote and Miguel Aparicio/The Sabrosura Effect, Tatiana Desardouin and Maleek Washington, from the artist-in-residency project with Pepatián and BAAD! The season closes with the Blacktino Queer Performance Dance Concert (May 27), in collaboration with Northwestern University. Includes Wendell Cooper, Jonathan González, Anthony Rosado and Shantelle Courvoisier Jackson. For more information, visit www.baadbronx.org
ALSO THIS MONTH
May 2-7—The Limón Dance Company returns to the Joyce Theater with two programs that include José Limón's "The Exiles" (1950), staged by former company members, "Concerto Grosso" (1945), "Chaconne" (1942) and "Suite From a Choreographic Offering, for Doris Humphrey" (1964), plus new works: "Night Light" by Kate Weare and "Corvidae" by artistic director Colin Connor. For more information, visit www.joyce.org