It's a girl for Russell Wilson and Ciara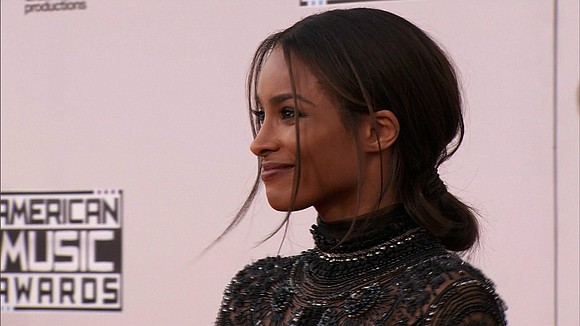 Seattle Seahawks quarterback Russell Wilson and his sexy songstress wife Ciara are now proud parents of a baby girl, Sienna Princess Wilson. The couple announced the birth of their daughter Friday, April 28, the same night as the NFL Draft. Sienna weighed 7 pounds, 13 ounces at birth. The coosome twosome got married the summer of 2016 in England and announced they were expecting a child together the following fall. Sienna is the 28-year-old Wilson's first child. Ciara is also mother to 3-year-old son Future Zahir Wilburn, with former flame, rapper Future.
According to the Hollywood Reporter, Tamron Hall has signed with WME. The agency will work with the former "Today" star on strategic opportunities involving TV and digital content, as well as speaking engagements and brand partnerships, among other areas. The news comes exactly three months after Hall exited NBC's "Today." She had co-anchored the morning show's 9 a.m. hour for three years, in addition to hosting her own daily MSNBC show, "MNSBC Live with Tamron Hall." Hall's abrupt decision was met with backlash, most notably from the National Association of Black Journalists, which accused NBC of "whitewashing."
The National Action Network, founded by civil rights leader the Rev. Al Sharpton, held its annual National Convention from April 26 to April 29 at the Sheraton Times Square in New York, where the country's most influential voices, including former attorney General Eric Holder and Senator Bernie Sanders, weighed in on critical issues, such as voting rights, criminal justice reform, immigration, health care, education, corporate responsibility, economic equity and more in the Trump era. Among the highlights of the convention was an award given to Jennifer Jones Austin, CEO and executive director of Federation of Protestant Welfare Agencies and a NAN board member, for her tireless work around eradicating poverty. She received her honor during a luncheon in the name of her father, the late Rev. Dr. William A. Jones Luncheon, an annual NAN event recognizing those in the faith-based sector who have paved the way in social justice and civil rights.
All of New York is still buzzing about the dazzling display of Black Woman Magic at the Greater New York Chapter of the Links Incorporated Annual Women of Distinction Spirit Awards Luncheon and Fashion Show held at Chelsea Piers. Nearly 900 of the Big Apple's best and brightest were in attendance as the ladies of greater New York presented an event that honored an array of accomplished women from the worlds of education, philanthropy, high finance and beauty. Among the honorees were Marilyn F. Booker, managing director and head of Urban Markets Group Morgan Stanley; Miko Branch, co-founder and CEO, Miss Jessie's LLC; Dr. Paula Johnson, 14th president of Wellesley College; and, Henri G. Moore, global leader for philanthropy and education and president of the DuPont Pioneer Foundation. A major highlight of the event was a breathtaking fashion show featuring designs by Tracey Reese, Kevan Hall and Erica Walcott. Fashion icons Pat Cleveland, Alva Chinn and Norma Jean Darden from the legendary "Battle of Versailles" were on hand lending their own special glamour to the event.