Racism continues to permeate stadiums across the globe
Jamie C. Harris | 5/5/2017, 3:58 p.m.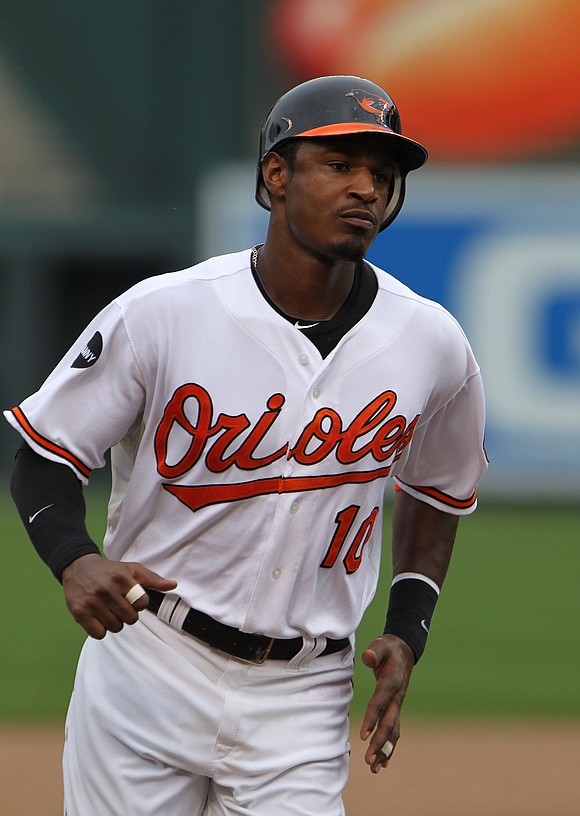 Last month, Major League Baseball celebrated the 70th anniversary of Jackie Robinson's debut as its first Black player. This week, MLB was reminded of its ignoble past.  Monday, Baltimore Orioles center fielder Adam Jones was the subject of racial taunts and a bag of  peanuts being thrown at him while manning the outfield in Fenway Park, home of the Boston Red Sox, the last major league franchise to integrate.
It wasn't until July 21, 1959, when Elijah Jerry "Pumpsie" Green graced the field at Comiskey Park in Chicago versus the White Sox to a standing ovation that the final team in baseball had a Black player in its official books.  Currently, the Red Sox have four African-American players on its 40-man roster.
Jones said he heard the N-word being directed at him several times, although he could not determine exactly who yelled it among the thousands of fans in attendance. Jones revealed that he has previously been a victim of racial epithets at Fenway, the oldest stadium in the major's. Fenway Park opened in 1912, the same week of the famous sinking of the Titanic luxury steamship.
The evening in many respects resembled soccer stadiums across Europe, where players of African descent have bananas tossed at them while on the pitch and are the recipients of hecklings from vile fans who mimic ape-like screams.
Tuesday, the 31-year-old Jones, a five-time All-Star from San Diego, Calif., said he finally felt the need to voice his displeasure with the actions of an ignorant minority present at the ballpark.
"It was just the right time," he said. "It was something that was on my mind. It was frustrating for me… Where I come from, you say things like that, you put the gloves on and you go after it. Obviously in the real world, you can't do that, especially in my field. So just hopefully, the awareness comes, the people around in the stands will hold other fans accountable."
Boston has long been a place where racial tensions have been as volatile as any city in the Jim Crow South.  It was frequently referred to as the Mississippi of the North and received global attention for its riots in the 1970s as a result of desegregation of public schools and the busing of Black children to schools in predominantly white neighborhoods.
Major Baseball Commissioner Rob Manfred, Tony Clark, head of the players' association, who is African-American, Massachusetts Gov. Charlie Baker, Boston mayor Marty Walsh and the city's police chief, Bill Evans, all spoke out against the shows of racism. Additionally, Red Sox team president Sam Kennedy said racial intolerance at Fenway could result in harsh consequences for offenders.   
"We want to make sure that our fans know… that offensive language, racial taunts, slurs are unacceptable," said Kennedy. "If you do it, you're going to be ejected. If you do it, you're going to be subject to having your tickets revoked for a year, maybe for life. We're going to look at that. We haven't made any firm decisions, but it just can't happen."
Both Kennedy and Red Sox owner John Henry met with Jones Tuesday and the Fenway faithful welcomed Jones with a standing ovation when he strode to the plate for his first at-bat later that night.
"Much appreciated," said Jones afterward. "It was also much appreciated by the Boston Red Sox and MLB getting ahead of it. Appreciative that action was taken, and that not everybody feels the same way as selected people."