St. John's continues strong track and field season
Lois Elfman | 5/5/2017, 3:54 p.m.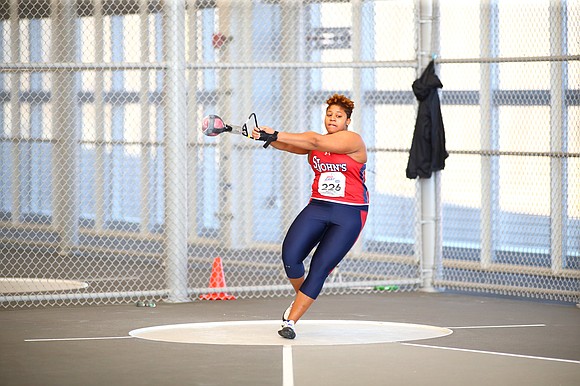 St. John's University track and field athletes head into this weekend's Tom Farrell Classic, the only home meet of outdoor season, on an upbeat note. The Red Storm's 4x200 relay won the ECAC final on day three of the Penn Relays. Denesha Ransome, Maya Stephens, Destiny Davis and Adriana Wright beat the field by almost two seconds.
Thrower Nyla Woods placed fourth in the college women's hammer throw. This placing was after being named Big East women's field athlete of the week. After an indoor season she referred to as "a bit of a journey," the junior has performed consistently well in outdoor season, winning three events.
The disappointing start to indoor season made Woods up her practice and seek input from several coaches. By the conclusion of indoor season, she showed solid progression. In outdoor season, she's thrown impressive distances in the hammer throw, her favorite of the throwing events.
"I like the speed of [the hammer throw]. It's very technical. I like how far it goes," Woods explained. "With the hammer, once you get it, it feels amazing to throw it. … When I have really good competitors, I tend to compete well."
Although Woods admits to not being very good at discus, she does enjoy the shot put. Seeing Michelle Carter win gold in the shot put at the Rio Olympics, the first American to accomplish that, was inspiring.
"I thought 'wow' because I wasn't expecting her to win," said Woods. "It was on her last throw, so it was in dramatic fashion. What it meant to me was possibility; there's a possibility for American female throwers to be on top."
Being a student-athlete isn't easy and Woods is appreciative of the supportive atmosphere of St. John's and having an academic coach who helps her stay on track. She likes to have a structured day with weight training coming in between classes and then doing another practice after classes.
"I feel I can incorporate track and field into what I want to do in life after college," said Woods, who wants to become a sports psychologist. "Being a student-athlete gives me a good perspective."
Final exams begin this week, but competition continues. The Big East Championships are the weekend of May 12-13. The NCAA Regional Championships are at the end of the month.