Taco time touchdown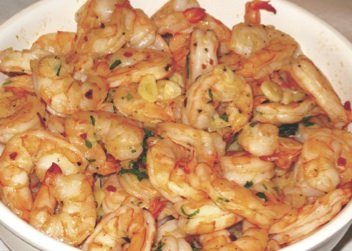 Last week was all about broccoli. Thanks for indulging me. I hope you enjoyed it and even gave some of the ideas a try. I continue to develop more, like pan-fried broccoli with yummy caramelized crispy bits. So good, but perhaps it was just a means to cleanse before the big day of tailgating, beer, meat and many things fried. That's right, Super Bowl Sunday is here!
I shared my vision for this year's festivities with you last week: the taco bar! You can make it as elaborate or as simple as you like: simple like ordering in and mixing it with store-bought salsa, guacamole and refried beans or elaborate like making both traditional and new fixings and spreading them out on the table for your guests to build their own.
The best part about a taco is that you can put anything into it. As long as you have the right spices and flavor combinations, you are only limited by your imagination. I've a few ideas-old and new-that might help you entertain your rowdy guests.
Start by choosing the proteins for your tacos: beef, poultry, seafood. For larger gatherings, it's best to opt for more reasonably priced proteins that can go a long way like ground meats, London broil or some fish varieties. The smaller the gathering, the better the fixings should be.
For me, it all starts with a seafood taco. I use tilapia, as it proves to be the most cost-effective white, flaky fish for the job. However, cod, swordfish, mahi-mahi or shrimp would be lovely here. I start by seasoning the fish with a good seasoning that has cayenne, black pepper, garlic powder and salt. Let that marinate for an hour or so.
While the fish is marinating, prepare the Veracruz slaw. In a food processor, combine one chipotle chili in adobo, three scallions, two cloves garlic, a handful of cilantro, the juice of two limes and a cup of prepared salsa. Stir the desired amount of this mixture into one cup of sour cream and season with salt as needed. Dress thinly sliced red cabbage with sauce and let sit while you prepare the fish.
You can prepare the fish one of two ways: pan-fried or broiled. To pan-fry, simply dredge seasoned fish in flour and lie into a heated pan (medium-high heat) with a thin layer of vegetable oil; three to four minutes per side will do. Alternatively, line a baking sheet with foil, coat seasoned fish with olive oil and broil in a preheated oven for three to four minutes per side.
The fish taco is best enjoyed on a flour tortilla. Follow the fish with cool and spicy Veracruz slaw, a squeeze of lime and dig in. So good anytime!
For my beef offering, I would either make chili-spiced ground beef, kind of like a dry sloppy joe or marinate a London broil overnight in a paste of garlic, onion, cumin, oregano, salt, black pepper, cilantro and lime zest. Then grill or broil it off and slice it thin against the grain. With either, my guests can use the copious amounts of fixings to dress their beef taco.