The Wizards must find a way to repel the force of Thomas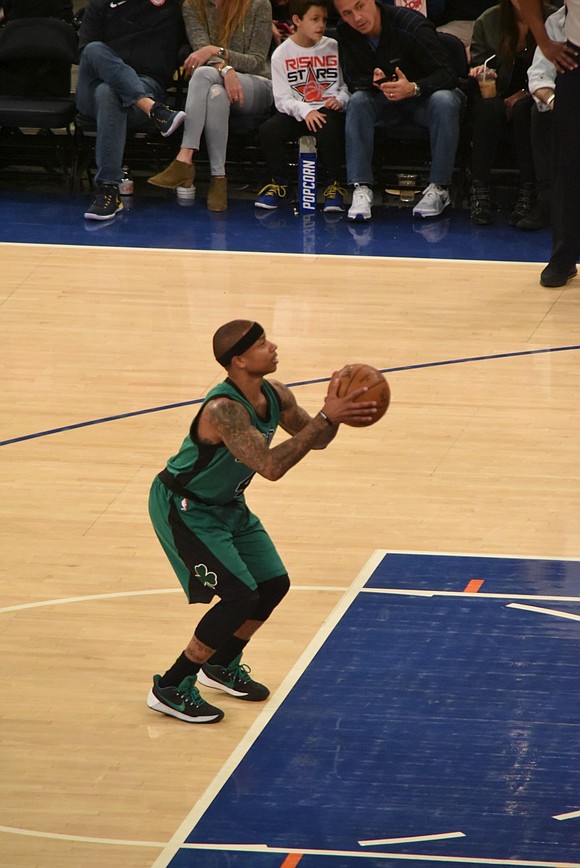 Isaiah Thomas may be one of the smallest players in the NBA, yet no one has a bigger heart. Still mourning the tragic death of his younger sister, 22-year-old Chyna Thomas, as a result of an auto accident, which occurred on the eve of the start of the Boston Celtics opening round of the playoffs against the Chicago Bulls, the 5-foot-9 Thomas lifted the Celtics from the depths of a 2-0 deficit to a 4-2 series win after they dropped the first two games at home.
Their victory averted a rare upset of a No.1 seed by an eighth seed and earned them a place in the Eastern Conference semifinals versus the Washington Wizards. In Game 1 Sunday, after a cross-country flight back to Boston from Tacoma, Wash., after attending Chyna's funeral Saturday, Thomas overcame having one of his front teeth knocked out by an inadvertent elbow in a collision with the Wizards' Otto Porter in the first quarter to score 33 points and hand out 9 assists as the Celtics came away on top 123-111.
But it was Tuesday that Thomas placed himself in the echelon of the most dynamic performances by a sub-6-footer in NBA history. The 28-year-old All-Star, who was the league's third leading scorer at 28.9 points per game in the regular season, poured in 53 points on his sister's birthday to drive the Celtics to a 129-119 win in Game 2.
"The least I can do is go out there and play for her," said Thomas in an emotional remembrance of Chyna. Thomas output was the second highest in franchise playoff history, one-point shy of Hall of Famer John Havlicek's 54.
The Celtics needed every bit of it as Thomas' point-guard counterpart, the Wizards' magnificent John Wall, did everything to carry his team in scoring 40 points to go along with 13 assists. Thomas said personal records do not hold as much value as they could if devoid of surpassing team success.
"It's nice to be in Celtics history with all the great players," said the seven-year veteran, who was the 60th and last pick in the 2011 NBA draft by the Sacramento Kings after an outstanding college career at the University of Washington. "But until you win a championship, you can't consider yourself a great player. That's what it's all about."
Games 3 and 4 will be played in Washington tonight (Thursday, 8 p.m.) and Sunday (6:30 p.m.). In the other Easter Conference semifinals, the Cleveland Cavaliers took a 1-0 series lead into Game 2 at home last night against the Toronto Raptors.