82 Chibok girls released in Boko Haram swap
NAYABA ARINDE Amsterdam News Editor with GIN and CNN | 5/11/2017, midnight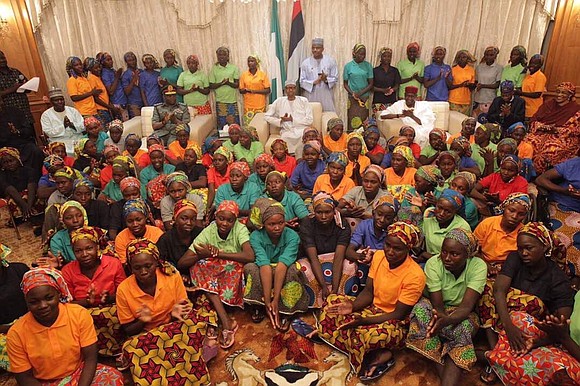 Dozens of the kidnapped Chibok girls have been returned. Of the 276 girls originally snatched in April 2014, 113 are still held captive.
Released Friday, May 5, 2017, after three years in captivity, 82 Chibok schoolgirls, aged 16 to 18, were freed after negotiations and a controversial swap between internationally labeled "terrorist" group Boko Haram and the Nigerian government. The government freed five top Boko Haram commanders in the deal, according to Sen. Shehu Sani, who was part of the negotiating effort.
"There's no price too high to pay," he said.
The released girls were received at the Abuja airport on behalf of President Muhammadu Buhari by Alhaji Abba Kyari, his chief of staff.
"Welcome our girls, welcome our sisters," Kyari said to the girls, who sat quietly in chairs. "We are very glad that you are back, and every Nigerian today must be forgetting every other hardship and suffering, because this is a very joyous moment. Welcome, welcome, welcome."
Although many families are elated, the impactful social media movement, #BringBackOurGirls, is still in effect for the 113 girls who are still captives. And activists are still demanding that Boko Haram be routed.
In April 2014, the girls were forced from their beds in a late-night raid by the militants at a government secondary school in Chibok, in the state of Borno, Northeast Nigeria.
Reports of the kidnapping sparked international outrage and a massive social media campaign led by Nigerians, catching the attention of many globally known activists and celebrities. Even former First Lady Michele Obama took part, tweeting a picture of herself holding a placard that read #BringBackOurGirls.
Many of the Chibok girls are Christian but were photographed in Muslim garb by their captors, and some were forced to take militants as husbands and bear their children.
The released girls were exchanged for five Boko Haram fighters held by authorities, according to one report. After a stop at a military base in Banki near the border with Cameroon, the girls were flown to the capital Abuja for a meeting with President Buhari. The handover took place early Sunday, May 7, ending several months of negotiations in which the government of Switzerland and the International Red Cross were involved. Parents of the missing girls carefully scanned an unofficial list of names with photos to see if their children were among those freed. Press reports say that the girls generally appeared to be in good physical condition. One has a broken arm and another has a leg injury, Nigeria's information minister, Lai Mohammed, told CNN.
"I am very, very excited with this development," said Yana Galang, whose daughter, Rifkatu, was among the girls kidnapped. "I cannot even sleep tonight."
Galang said they don't yet know who has been released, "but we're very happy that many have been freed."
She added. "I hope and pray that my daughter is among these released girls."
President Buhari delayed a previously scheduled trip to London for medical treatment to meet with the girls in Abuja Sunday.
"The president has repeatedly expressed his total commitment toward ensuring the safe return of the #ChibokGirls, and all other Boko Haram captives," Buhari's office said in a statement.
"This evening I received 82 of our daughters, who have just regained their freedom after three years in Boko Haram captivity," Buhari tweeted.
Sani told CNN the negotiating team included Swiss intermediaries, Nigerian security forces and a mediator.
He said the negotiations came in three parts.
The first was the release of 21 girls last October, which he said was designed to "build confidence on both sides."
Discussions to free the remaining 113 girls should begin at the end of the week.
As many as 57 girls escaped almost immediately after the mass abduction. Another girl was found in May 2016, when she wandered out of a forest asking for help, according to witnesses.
The Red Cross acts as an intermediary.
Sunday, the International Committee of the Red Cross tweeted, "Acting as a neutral intermediary, we @ICRC transported 82 #ChibokGirls to the government of #Nigeria" and included a photo of six Red Cross SUVs on a dirt road.
"[Given] our long historical independent neutral stance, it's common for us to be the middleman in hostage releases," said Jason Straziuso, spokesman for ICRC for East Africa. "We provide transportation from Boko Haram to the Nigerian government."
Straziuso added, "We will continue to meet with the girls and monitor their health. Our concern for the girls' well-being will continue in the coming months."
Although speculation continues as to which homegrown, foreign or combined agents/agencies actual created, fund and support Boko Haram militants, reports worldwide have stated that the group has used kidnappings, bombings and the torching of whole villages during an eight-year insurgency in Northern Nigeria. The kidnapping of the schoolgirls gained worldwide notoriety, but the actual number of kidnappings by Boko Haram in Nigeria is estimated at 30,000, with some young people used as suicide bombers.
AllAfrica.com reported that Sen. Ahmed Makarfi's People's Democratic Party criticized the Muhammad brokered prisoner swap, saying that it strengthened the rogue group terrorizing Northeast Nigeria.
The report noted that Makarfi's party also said Boko Haram members had escaped justice by their release and "all the efforts made by the security agencies to bring them to book had come to nothing." They slammed the very notion of negotiating with so-called terrorists as a violation of accepted international principles. But, Minister of Information and Culture Lai Mohammed slammed as the party's response as "indecent, inhuman and ill-timed."
The website quoted Mohammed berating the party for politicizing the release of the girls "just to prove a ludicrous point." He added, "Didn't superpower the United States engage in negotiations with the Taliban that led to the exchange of five Taliban fighters for U.S. Army Sgt. Bowe Bergdahl in 2014? Didn't Israel release 1,027 Palestinian prisoners in exchange for one Israeli soldier, Gilad Shalit, in 2011?"
As the 82 girls re-unite with their elated families and measures for their extensive rehabilitation begin, Mohammed is quoted as saying, "A lot of factors come into play when a nation has to decide whether or not to engage in prisoner-hostage swap. None, however, trounces the sanctity attached to human life and the consideration for the pains of the loved ones of those involved."
Rejoining their communities will not be easy for the girls after the trauma of abuse by their captors and inadequate food, shelter and medical attention. Some have even been rejected as collaborators with the militants by their villages.
R. Evon Idahosa is a New York-based lawyer, activist and Founder and Executive Director of PathFinders Justice Initiative, Inc. She has been a leading voice in exposing and challenging sex and human trafficking into and from the Continent. "Expecting great things ahead for these rescued #ChibokGirls, and praying for the rescue of all those in #BokoHaram captivity," she stated after appearing on "BBC World News." Fresh off a two-day human trafficking intervention workshop in Benin City, in Edo State, Idahosa wrote on social media that she was "so blessed to have been present with one of the mothers of the 82 recently rescued #ChibokGirls when she found out that her daughter was on the list of those rescued!"
Idahosa added, "No matter the circumstances, she never gave up! Thanks to everyone who prayed for the families and continued to believe, even three years later. There is still work to be done for the 113 other families who still await. But in the meantime, joy abounds!"