82 Chibok girls released in Boko Haram swap
NAYABA ARINDE Amsterdam News Editor with GIN and CNN | 5/11/2017, midnight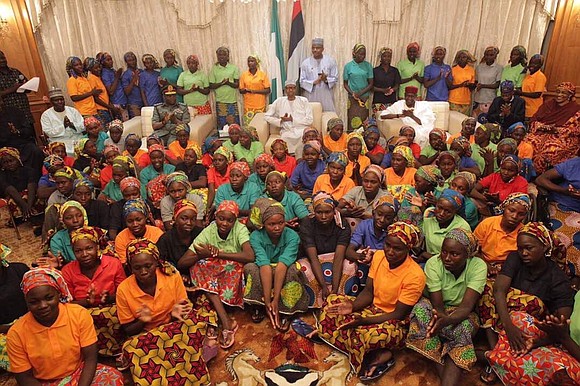 Dozens of the kidnapped Chibok girls have been returned. Of the 276 girls originally snatched in April 2014, 113 are still held captive.
Released Friday, May 5, 2017, after three years in captivity, 82 Chibok schoolgirls, aged 16 to 18, were freed after negotiations and a controversial swap between internationally labeled "terrorist" group Boko Haram and the Nigerian government. The government freed five top Boko Haram commanders in the deal, according to Sen. Shehu Sani, who was part of the negotiating effort.
"There's no price too high to pay," he said.
The released girls were received at the Abuja airport on behalf of President Muhammadu Buhari by Alhaji Abba Kyari, his chief of staff.
"Welcome our girls, welcome our sisters," Kyari said to the girls, who sat quietly in chairs. "We are very glad that you are back, and every Nigerian today must be forgetting every other hardship and suffering, because this is a very joyous moment. Welcome, welcome, welcome."
Although many families are elated, the impactful social media movement, #BringBackOurGirls, is still in effect for the 113 girls who are still captives. And activists are still demanding that Boko Haram be routed.
In April 2014, the girls were forced from their beds in a late-night raid by the militants at a government secondary school in Chibok, in the state of Borno, Northeast Nigeria.
Reports of the kidnapping sparked international outrage and a massive social media campaign led by Nigerians, catching the attention of many globally known activists and celebrities. Even former First Lady Michele Obama took part, tweeting a picture of herself holding a placard that read #BringBackOurGirls.
Many of the Chibok girls are Christian but were photographed in Muslim garb by their captors, and some were forced to take militants as husbands and bear their children.
The released girls were exchanged for five Boko Haram fighters held by authorities, according to one report. After a stop at a military base in Banki near the border with Cameroon, the girls were flown to the capital Abuja for a meeting with President Buhari. The handover took place early Sunday, May 7, ending several months of negotiations in which the government of Switzerland and the International Red Cross were involved. Parents of the missing girls carefully scanned an unofficial list of names with photos to see if their children were among those freed. Press reports say that the girls generally appeared to be in good physical condition. One has a broken arm and another has a leg injury, Nigeria's information minister, Lai Mohammed, told CNN.
"I am very, very excited with this development," said Yana Galang, whose daughter, Rifkatu, was among the girls kidnapped. "I cannot even sleep tonight."
Galang said they don't yet know who has been released, "but we're very happy that many have been freed."
She added. "I hope and pray that my daughter is among these released girls."
President Buhari delayed a previously scheduled trip to London for medical treatment to meet with the girls in Abuja Sunday.