Cuomo signs legislation allowing full union dues to be deducted from taxes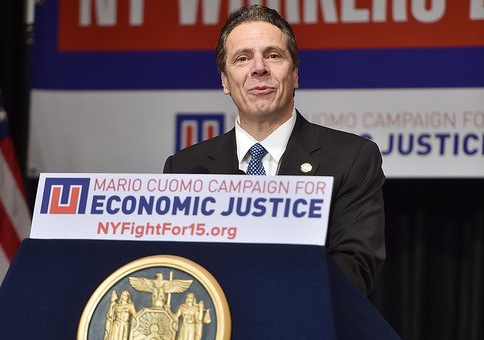 Last week, New York State Gov. Andrew Cuomo announced new legislation that would allow full union dues to be deducted from state taxes.
According to Cuomo, the Fiscal Year 2018 Enacted Budget would create a union dues deduction for taxpayers who itemize deductions at the state level equal to the amount that's currently disallowed at the federal level because of the 2 percent floor. It's expected to save 500,000 taxpayers $35 million annually (approximately $70 per taxpayer per year).
"We are a state that was built by labor and we are proud of it," said Cuomo. "And we are fighting back—that's what the $15 minimum wage is all about. That's what paid family leave is all about. That's what the department of labor recovering a record $100 million in unpaid wages is all about. That's what our commitment to do no construction job without a PLA is all about. That's what a record 692 apprentice programs in this state is all about. And that's what the 421-a fight was all about."
New York State residents paying local and state taxes, mortgage interest and charitable contributions likely claim itemized deductions on their federal tax returns. Many from that group also tend to itemize on their state returns as well.
"What Washington's going to try to do is they're going to try to divide and conquer. It's the oldest strategy in the book," said Cuomo. "And they're going to try to pull us apart and take one union here and one union there. And we have be on our guard, and our message and our strategy is simple. It's not the Building Trades or HTC or 1199 or CWA or RWDSU or 32BJ."
There is also another deduction that's infrequently used by taxpayers and it applies for a group of miscellaneous expenses such as union dues, professional society dues, work clothes costs, tax preparation and out-of-pocket job expenses. According to the state, a floor applies when only amounts in excess of 2 percent of taxpayers' adjusted gross income are deductible. The floor tends to prevent deductibility of a significant portion of union dues at the federal level and fails to lower the so-called top line starting point for the taxpayer's New York return.
Unions were quick to praise Cuomo for this new legislation.
"This new benefit will put an estimated $35 million back into the pockets of our members in private sector, public sector and building trades unions throughout the state," said New York State AFL-CIO President Mario Cilento. "We welcome this new benefit particularly at a time when the right of working people to join a union is increasingly under attack."
George Gresham, president of 1199SEIU United Healthcare Workers East, called the legislation a "common sense" measure that aligns state tax policy with federal policy and "allow[s] hard-working New Yorkers to keep a little more in their pockets at a time of rising prices."
32BJ President Hector Figueroa thanked Cuomo and New York State for supporting unions. "Together with the historic passing last year of a statewide $15 minimum wage and family paid sick leave, New York is leading the country in the fight for the middle class," he said.
Jill Furillo, RN, executive director of the New York State Nurses Association, said the legislation lets New Yorkers know that the state isn't parroting the actions of Washington, D.C.
"This law sends a clear message: we will always fight for New York's workers to give them better pay, better benefits and better protections because it's the right thing to do," stated Furillo.