Harlem Rotary Club celebrates Harlem's heyday for 50th anniversary gala
NADINE MATTHEWS | @deeniemedia | 5/11/2017, 12:19 p.m.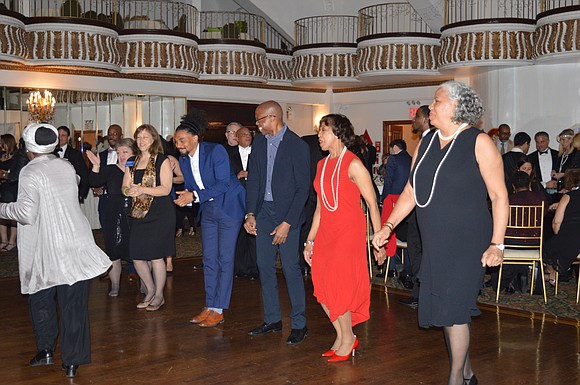 The Harlem Rotary Club flashed way back this past Friday, throwing a Harlem Nights themed fundraising gala to celebrate its 50th anniversary. Funds raised will support the Rotary Club of Harlem's scholarship initiatives and Active Plus, a nonprofit organization that promotes healthy lifestyle choices. In a nod to Harlem's glamorous jazz era heydays, gala attendees in flapper dresses, feathers, pearls and cloche hats galore gathered around blackjack, roulette and poker tables that adorned the historic Alhambra Ballroom for the fun night. The evening was punctuated by a live band, DJ, speeches from rotary club leaders, an awards ceremony and the song stylings of Angela Wildflower of Broadway's "Motown the Musical" and opera singer Marguerite Sutherland. The music was as diverse as the guests, featuring jazz, classical, pop, hip-hop and a heavy dose of disco. Dancer Virgil Gadson, known for Broadway's "After Midnight," strutted and slid across the dance floor in vintage two-tone wingtips to get the crowd in a boogying mood. Novelist and Rotary Club member Maryann Reid commented, "When there is an opportunity for more men to be in a room, that's a good thing and a rare thing. So if it takes glam and '20s styles to make the balance better, let's do it!"
Founded by Paul Harris in 1905, the Rotary Club is an international nonprofit dedicated to community service, with programs ranging from humanitarian projects, providing scholarships and grants, international exchanges and training in conflict resolution and peacebuilding. The members range in age from late teens to seniors. Chapters such as the Harlem chapter meet approximately twice per month. Twenty-something rotary Abit Ragbeer, a hospital patient care technician, was volunteering as a "cigarette girl" for the night. She said about her experience with the organization, "I joined the rotary when I was 18. I wanted to be part of an organization and give back to the community, and a friend invited me and I felt comfortable and liked the atmosphere. I like what they do as an organization and that's how I became a member. They also mold young professionals in becoming Rotarians, scholarships, connecting and working together with other countries. They don't discriminate based on age, race or anything once you are an individual who is passionate about giving back to your community."
Both decked out in fancy black frocks, pearls and headbands, Sajana Blank and Tara Chambers almost looked like twins. The two are board members of Active Plus as well as Harlem Rotary Club members. Taking a break from posing for pictures to commemorate the night, Blank opined, "It's really nice to have an event in the community that we're serving, both Rotary and Active Plus, and to be able to bring together such a diverse group of people. Active Plus serves youth and adolescents in the Harlem community through holistic health, education and also recreation. We also bring service professionals into the public schools of East Harlem." Chambers added, "We are so excited. It is the biggest event of the year for us. It is going to raise a lot of money to do a lot of good in the community. It's all about the throwback right now to a time when Harlem was flourishing and it's still flourishing now, but it is nice to reflect on that time and it's nice to dress up and be a part of this world."
Notable guests at the event were Congressman Adriano Espaillat, Manhattan Borough President Gale Brewer and City Councilman Bill Perkins. Service award recipients were Sara Dennis, the president of National Council of Negro Women; the Rev. Thomas P. Grissom, who is the retired pastor of the United Methodist Church; Dr. Gregory Hopkins, musical director and professor at Howard University; Lora Hugelmeyer, district governor, Rotary District 7230; Denise Soares, RN, MA, retired executive director of Harlem Hospital; and Marva Wade, RN the first vice president of the New York State Nurses Association.