I'm So AmNewsFOOD 2017 winners
KYSHA HARRIS AmNewsFOOD Editor, @SCHOPgirl | 5/11/2017, midnight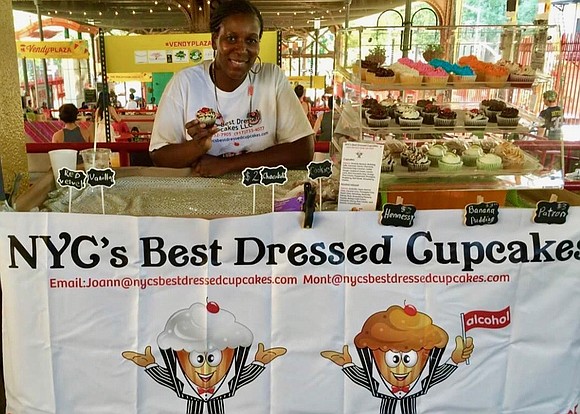 What a response this year to our third annual I'm So AmNewsFOOD Harlem EatUp! contest. A big thank you to all that entered, and for those not selected, we hope you will try again next year and tell a friend.
Our first winner, Nana's Homestyle Poundcake (@NanasPoundcake, www.nanashomestylepoundcake.com), has been adorning my family's cake dishes for years. Sure, we might have claimed it as our own once or twice, but it truly is the creation of owners Tracey Washington Bagley and Sherri "The Cake Chemist" Mitchell.
Based on Bagley's 100-year-old Martinsville, Va. family recipe for almond pound cake, and Mitchell's Trinidadian food roots, the pair opened Nana's Homestyle Pouncake in 2013. Together they have expanded the expression of what this simple cake can be with flavors that give you a hug from home, no matter where that may be.
Saturday, May 20, Nana's will be sampling their signature almond plus lemon and strawberry and debuting Banana Bliss!
Our second winner brings us back to a simple savory note of olives in tapenade form. Prepare those taste buds for Spread-mmms (@Spreadmmms, www.spread-mmms.com). Owner Rebecca Montero created this product as love note to her friends and family on her return from Paraguay while in the Peace Corps. OK, so it was a demand. Everyone loved it so much she had to sell it.
Spread-mmms is a small batch, artisanal olive tapenade that is proudly hand crafted in Harlem. It is a savory spread made with oil-cured Moroccan black olives, garlic, rosemary and a splash of organic lemon juice. It can be used as a flavorful appetizer or a delicious addition to your favorite recipes.
Sunday, May 21, Spread-mmms will be sampling the signature Beldi olive tapenade with garlic and rosemary and showcasing her Capricious Cannellini spread.
Our final winner sampled last year as part of the Food Pathways Program. Created by Harlem home baker Joann Poe in 2010, NYC's Best Dressed Cupcakes (@JoannCakes, www.nycsbestdressedcupcakes.com) has expanded their line of baked goods to cakes, cake pops, cookies and more.
"Being a vendor at Harlem EatUp! is the perfect platform that I need to introduce my business and the products that I sell and give me the opportunity to reach a larger audience," said Poe of this opportunity. We are excited to have her participate and looking forward to her sweets.
Sunday, May 21, NYC's Best Dressed Cupcakes will be sampling minicaramel and new, seasonal, peach cobbler cupcakes!