Twenty years for the unity of the human family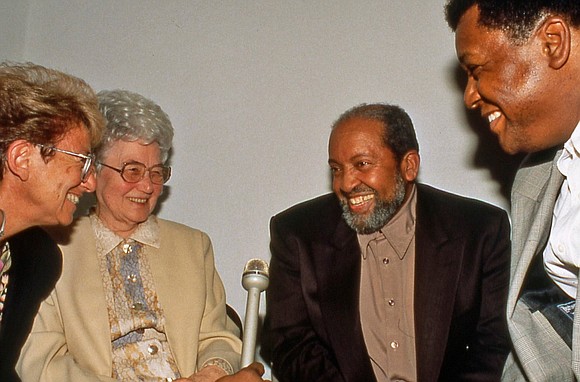 The 20th anniversary celebration of the encounter and pact between Chiara Lubich and Imam Warith Deen Mohammed will take place at Historical Masjid Malcolm Shabazz in the heart of Harlem May 20, 2017. This celebration promises to be an extraordinary event that will speak volumes, but to understand its full significance, one needs to be familiar with the larger narrative that took place on a sunny Sunday back on May 18, 1997.
Twenty years ago, Imam Warith Deen Mohammed, religious and spiritual leader of the largest Muslim association in America, and Chiara Lubich, a Catholic woman, founder and president of the Focolare Movement worldwide, met in person for the first time and made a "pact" formalizing their commitment —along with that of the 3,000 persons present—to work to foster unity. This collaboration was not only between their two communities but also embraced all religions and persons of goodwill who share similar values and ideals.
This pact became known as the Encounter and Pact between Chiara Lubich and Imam Mohammed—an unforgettable moment blessed by God that marked all participants for life.
It was a historic moment. Many of us remember vividly the words of Mohammed: "Let me tell you something; history is being made today here in Harlem, New York, right here in Harlem." It marked the beginning of a rich, inter-religious dialogue experience and a universal bond of friendship. Indeed, a unique and valuable American experience that needs to be fully articulated and expressed.
One could say many things about this relationship. However, a single statement seems to summarize it best: Unity in God.
The primacy of unity, the desire to live it, to work for the excellence of the human family, is at the heart of the relationship between these two communities, a relationship that extends to everyone and invites everyone to live for the oneness of the human family.
Over time, on various occasions, both Mohammed and Lubich made powerful statements explaining that unity is God's design for humanity.
One such statement was made by Mohammed in October 1999, at a manifestation after the International Interreligious Congress in Rome promoted by the Focolare Movement. He said, "We are joining one another here at the Vatican in Rome with his Holiness, John Paul II, because Muslims, Christians, Jews and others share basic values and a belief in a virtuous life that wants justice and peace for all. We cannot but look for opportunities for religions to meet and, by sincere discussion, come to a better knowledge of each other…God has made things different, human beings too, because God wants unity to progress…God said he has made us humanly different by color, by nationality, to encourage us to walk together and get acquainted with each other, to have peace and unity."
And as early as 1946, at a very young age, Lubich wrote, "In our hearts one thing is clear: unity is what God wants from us. We live in order to be one with Him, and among us, and with everyone…This splendid vocation binds us to heaven and immerses us in universal brotherhood. Nothing could be greater. For us there could be no loftier ideal."
The world we live in today is a beautiful place, but challenges such as fragmentation, indifference and disunity are real, and at times may appear overwhelming. Let the 20th anniversary celebration give hope and demonstrate to our world today that unity is possible.
Lubich died March 14, 2008; Mohammed six months later, Sept. 9, 2008. Their legacy is alive!
The 20th Anniversary Celebration of the Encounter and Pact between Chiara Lubich and Imam W. D. Mohammed will take place at Historical Masjid Malcolm Shabazz, located at 102 W. 116th St., New York, N.Y., May 20, 2017, at 1 p.m.