Banks drives it home
Lois Elfman | 5/12/2017, 5:07 p.m.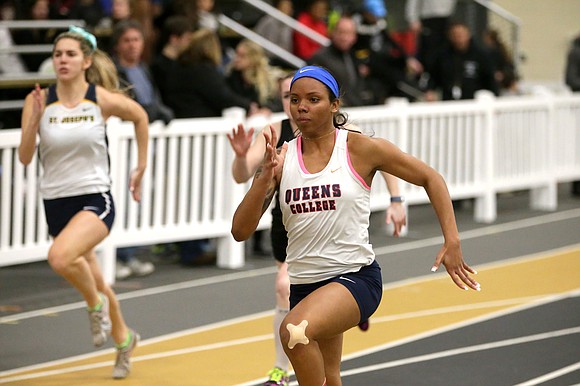 Queens College junior Damira Banks literally sprinted to the finish. The multi-talented junior track athlete was part of the Knights' victorious 4x100 relay team at last Saturday's Tom Farrell Classic at St. John's University. She closed out the final meet of the outdoor season with two individual top-10 finishes, sixth-place in the 100-meter dash and ninth in the long jump.
She said outdoor season was a solid progression, with the team peaking at the ECC Championship, finishing second in both the 4x100 and 4x400 relays. Banks, who described herself as "naturally athletic," competes in several events in addition to the relays: the 100-meter dash, the 100-meter hurdles, the 200-meter dash and the long jump.
"My favorite is probably the 4x100," said Banks. "It's the most exciting. It's the first event, so it gets you hyped up and confident for the rest of the track meet. It's energetic. My least favorite is the 100 hurdles, just because I'm actually scared of the hurdles. I'm pretty good, but it's my least favorite. I've been working on trying to keep my momentum."
Banks came to Queens College as a sophomore after attending Georgian Court University in New Jersey during her freshman year on a basketball scholarship. She also ran track during outdoor season and after winning three events in her conference, she decided to transfer so she could commit fully to track, which has been her primary sport since childhood.
"I like track, the intensity and the competition," said Banks, who has a panther tattoo (not uncommon among track athletes) on her shoulder. Her father, who played college football at Villanova University, has a similar tattoo. She is the only girl in the family and she said her brothers made her tough. "Definitely made me competitive," she said.
Banks names Kobe Bryant as her favorite athlete for his competitive attitude. She admires the late Florence Griffith Joyner because of the glamour she brought to track and field. She also enjoys watching competitors from her high school days who are now doing well in college track.
A sociology major, Banks is considering a career in public relations. She has an upcoming internship in the field. In addition to exploring career options, Banks expects to spend most of the summer in New York City training and preparing for an outstanding senior season.