Derek Jeter returns to the Bronx to have his number retired
Vincent Davis | 5/12/2017, 5:09 p.m.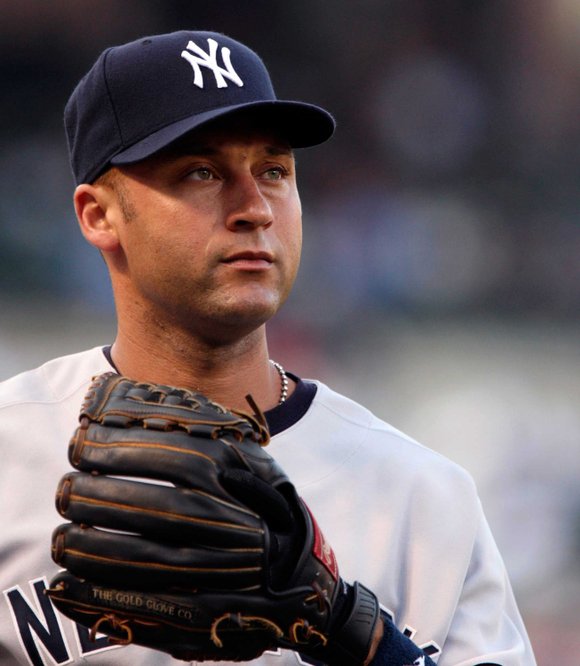 Retired New York Yankees shortstop Derek Jeter returns to the team's historic Bronx stadium Sunday afternoon, Mother's Day, to have his Number 2 retired, an honor only given to the major league's greatest Yankee players.
Jeter, turning 43 next month, retired from the game three years ago after the 2014 season. Known for being clutch, a big-game player, Jeter, in customary fashion, hit a game winning walk-off single against the Baltimore Orioles Sept. 25, his last game at Yankee Stadium.
It was the ninth inning, one out, a man on second, the score tied 5-5. Cameras flashing throughout the sold-out Yankee Stadium crowd who were on their feet in anticipation. It was a ticket that was both expensive and hard to get.
Jeter, a sure Hall of Famer, is up to bat. He steps to the plate, takes three practice swings, intermittently adjusting his arm and ankle pads, a pre-batting ritual. Jeter hits the first pitch thrown by Orioles' relief pitcher Evan Meek into right field, driving in the game-winning run—a Hollywood ending to a storied career.
In his 20 years as a New York Yankee, Jeter has contributed greatly and reliably to the team's successes, winning five World Series: 1996, 1998, 1999, 2000 and 2009. Jeter, the 1996 American League Rookie of the Year, was named the MVP of the 2000 All-Star Game and MVP of the 2000 World Series between the Yankees and New York Mets, known as the Subway Series. He's the only player to ever win both awards in one MLB season. Nicknamed Captain Clutch and Mr. November because of his outstanding postseason play, Jeter hit a leadoff home run on the first pitch of Game 4, a triple later in that game and a game-tying home run in Game 5 in the Yankees five-game defeat of the Mets.
His dive into the stands parallel to third base July 1, 2004, at the stadium to make an out of play catch in the top of the 12th inning against the Red Sox was another memorable, iconic Jeter moment, and another contribution to the many team victories. Another right field single in September 2009 gave Jeter 2,722 hits, one more than legendary Yankee great Lou Gehrig, whose Hall of Fame career was cut short by illness in 1939. It's a record that took 70 years to break.
Jeter, appointed team captain by Yankees' owner George Steinbrenner in 2003, a position that he held until his retirement, finished his career with a .310 lifetime batting average, 260 home runs, 3465 hits, 1311 runs batted in, five Gold Glove Awards and appearances in 14 of Major League Baseball's All-Star games. He has a .321 batting average in the World Series.