Liberty suffer rough loss in preseason
Lois Elfman | 5/12/2017, 5:05 p.m.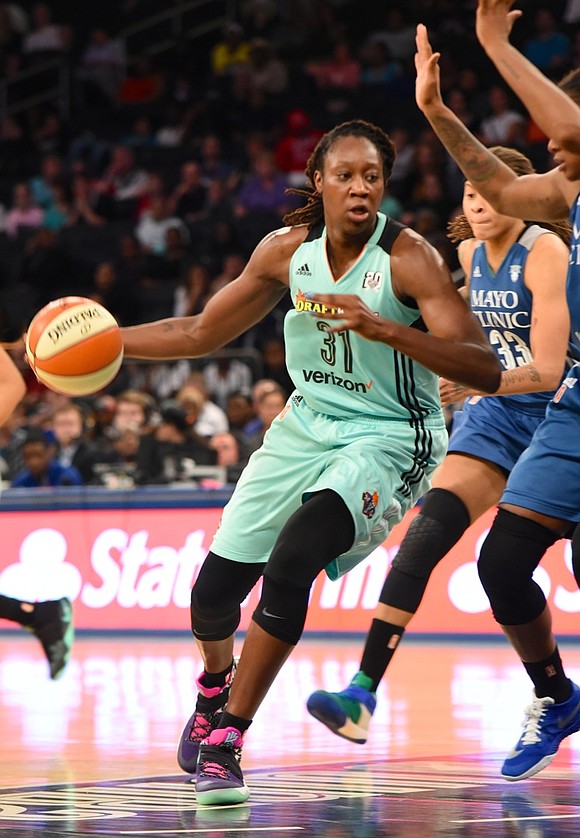 "Even though they were without some main players that will be on their final roster, we wanted to see if we could be physical with them because we respect how they play," said Curt Miller, coach of the Connecticut Sun, after his team defeated the New York Liberty 79-57 in a preseason game played at Columbia University. "I like how we came out. We were the aggressors and set the tone that way."
The Liberty headed into Sunday's game with one win and one loss in preseason action. With crucial cuts to make before the season opener at Madison Square Garden Saturday, coach Bill Laimbeer let a variety of players have minutes. The first quarter was brutal, with the only points coming on free throws.
Among the new names in training camp was Nayo Raincock-Ekunwe, a player from Canada signed as a free agent. She has four years of professional experience, having played in Australia and France.
"Today's game wasn't a reflection of how I think the team is and what we can do," said Raincock-Ekunwe, a forward, who said if she makes the roster she promises to bring intensity and a spark off the bench. "We've been practicing so well."
Long Island native and UConn alumna point guard Bria Hartley, acquired in a trade during the offseason, is back in playing shape after giving birth to a son earlier this year.
Guard Lindsay Allen, the Liberty's top pick in this year's draft, said the team came out with no energy. "We let them hit us first," she said. "In any game, we have to be the ones to initiate … and play with purpose and energy to start out."
Liberty star, forward/center Tina Charles, had 20 points and nine rebounds, but she sat for the fourth quarter to allow her teammates to show what they can do. She said the team needs to "lock in and be focused" in practice. This focus includes physicality because that is what they will face from opponents.
"Every practice has to be high intensity," Charles said. "I will continue to challenge them. The same standard that I have for myself, I hope that I'm able to spread it around and it's a snowball effect. That they take pride in how they come out and how hard they play each and every single night. Value every single possession."