Visiting Nurse Service of New York home care nurse Neely Bagley with a patient
5/12/2017, 4:52 p.m.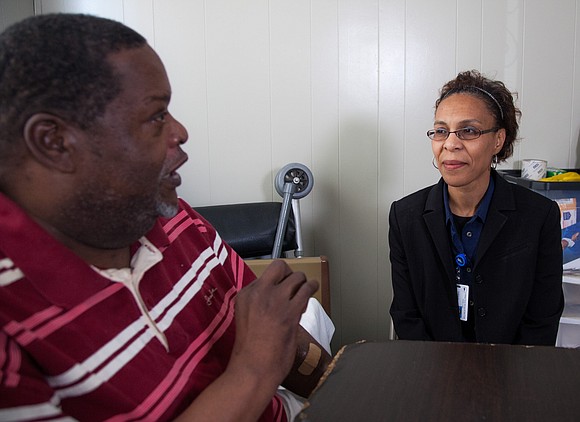 National Nurses Week—Why we celebrate
May 6-12 is National Nurses Week, a time set aside to recognize the men and women who have dedicated their lives to the field of nursing. Nurses make a difference in our lives every day. They're on the scene (or behind the scenes) in many locations, from hospitals and clinics to schools, offices and our homes. National Nurses Week is a time to learn about and honor these often unsung heroes by thanking them for the skill, services and smiles they provide all year long. Home care nurses from the Visiting Nurse Service of New York are familiar faces across all five New York City boroughs and in Nassau, Suffolk and Westchester counties. You'll find them in homes and community-based settings, where they help diagnose and treat diseases, injuries and disabilities. They dress wounds, facilitate infusions, administer medications and provide direct care to patients who come from all walks of life. Here are a few unexpected ways these nurses make life better for New Yorkers every day:
Just being there
"Often when I visit one of my older patients in Staten Island, I'll be the only person they see or talk to all day," said RN Lynn Taylor, who visits patients on Staten Island. Our goal is to maximize physical, cognitive and behavioral well-being so that our patients have the highest possible level of independence at home and in the community. "We dress wounds and help manage pain and other symptoms, but sometimes I think what's most healing is simply that we show up, listen and show we care," Taylor continued.
Removing "little gray offenders"
When visiting a first-time, soon-to-be-mother, Bronx RN Michelle Belton arrived to find her patient visibly upset and on the verge of tears. "What's wrong," she calmly asked, "Are you in labor?" Pointing to the other side of the bed, the patient revealed a wriggling mouse, partially attached to a glue trap, slowly "marching" across the floor. The nurse bravely covered the rodent with a broom, and then swept up "the little gray offender" and discarded him in the trash outside the apartment building. After washing her hands, she did her regular Nurse Family Partnership home visit, which included a discussion of environmental concerns and calling 311 to report the problem.
Walk, ride or skate a mile in our shoes
Some nurses clock an average of 5 to 7 miles a day on-foot between visits to patients. Others, such as Conrad Parker, use bikes, scooters, skates or skate boards to get from home to home in Manhattan. "I have three small kids, and this is probably my one chance to get a good workout in a couple of times a day" said Parker. "I have a backpack that's super heavy. I try to keep it as light as possible, but honestly carrying my backpack, cycling is a lot easier on my back. When I walk with my backpack, I feel it a lot more."
Reading, writing and sleuthing
"We're like little detectives," said Alicia Schwartz, RN, with VNSNY CHOICE Health Plans in Queens and Manhattan. Aging people with multiple chronic illnesses can sometimes take as many as 19 medications or more. It can be a challenge to keep up with them and to stay aware of side effects and other symptoms when medications change. One of Schwartz's patients was so averse to taking meds that she often skipped important blood pressure meds that had been prescribed after a stroke. "We see resistance to lifestyle changes like suddenly having to take medications," said Schwartz. "It's not easy to accept that the best that you are going to feel is not as good as you remember feeling when you were younger, but we work to build trust and to educate our patients. For my patient, we worked out a plan so that she could take meds in the morning, after meals and at night. The plan worked just right."